Page last updated
10 June 2014
Mussel of the Month
The June 2014 Mussel of the Month is Dromus dromas. Dromus is a monotypic genus endemic to the Cumberland Plateau in eastern North America.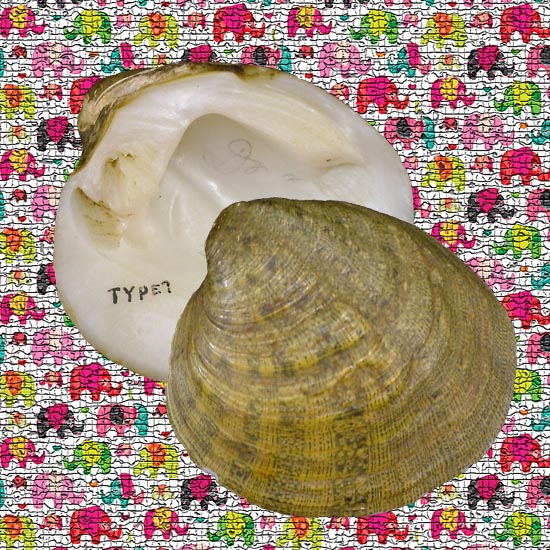 USNM 25852. Tennessee (type).
Dromus dromas (notice the difference in spelling between the genus and species names!) is interesting for a couple of reasons — besides the fact it has not previously been selected as the Mussel of the Month. Simpson (1900) and Ortmann (1912) set Dromus apart from other freshwater mussel genera based on its unique combination of hard- and soft-anatomical characters: a shell like Cyprogenia but wrinkled marsupial demibranchs similar to Ptychobranchus. Ortmann (1912) illustrated that the wrinkles in the brooding gills manifest with size (i.e. age).
These two figures showing the marsupial demibranchs of D. dromas are from Ortmann (1912). The one on the left shows a younger (smaller) female with a gravid marsupium (mp). The figure on the right shows the wrinkled/folded marsupium of an older (larger) individual.
Whereas D. dromas is historically known from both the Cumberland and Tennessee River basins on the Cumberland Plateau, reproducing populations are currently known only from the Clinch and Powell Rivers (tributaries of the Tennessee). D. dromas was added to the U.S. Federal Endangered Species List in 1976, and Jones et al. (2004) made an interesting study of this mussel's life history pursuant to the mussel's recovery.
Phylum Mollusca
Class Bivalvia
Subclass Palaeoheterodonta
Order Unionoida
Family UNIONIDAE Rafinesque, 1820
Subfamily AMBLEMINAE Rafinesque, 1820
Tribe LAMPSILINI von Ihering, 1901

Genus Dromus Simpson, 1900
Species Dromus dromas (Lea, 1834)
To find out more about Dromus and endangered freshwater mussels:
Jones, J.W., R.J. Neves, S.A. Ahlstedt & R.A. Mair. 2004. Life history and propagation of the endangered dromedary pearlymussel (Dromus dromas) (Bivalvia: Unionidae). Journal of the North American Benthological Society 23(3): 515-525.
Ortmann, A.E. 1912. Notes upon the families and genera of the najades. Annals of the Carnegie Museum 8: 222-365.
Simpson, C.T. 1900. Synopsis of the naiades, or pearly fresh-water mussels. Proceedings of the United States National Museum 22: 501-1044.