Page last updated
1 September 2015
Mussel of the Month
The September 2015 Mussel of the Month is Venustaconcha ellipsiformis. Venustaconcha is a genus of two species found in the Mississippi and Great Lakes drainages of eastern North America.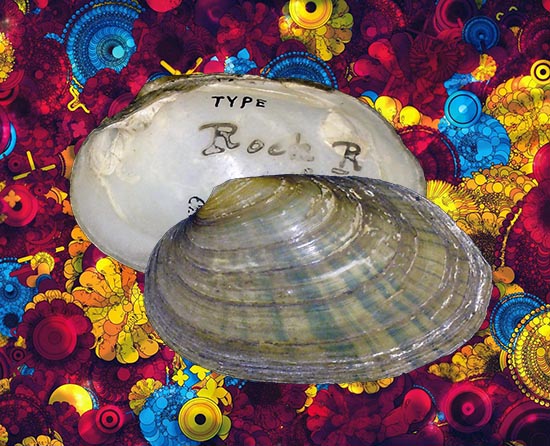 USNM 84982. Rock River, Wisconsin (type of Unio spatulatus Lea, 1845)
Venustaconcha ellipsiformis is one of the (at least) 49 species of freshwater mussels that occurs in Wisconsin, USA. The mussels of that state have captured much of our attention this summer, and a milestone in that research was our presentation at the 81st annual meeting of the American Malacological Society at the University of Michigan Biological Station.
Although this project to quantify and describe the patterns of freshwater mussel distributions in Wisconsin has been ongoing for a couple years, the intense activity this summer was motivated by the AMS Great Lakes Malacology Symposium, organized by Dave Zanatta of Central Michigan University. DLG presented a talk entitled, "Biogeography of the freshwater mussels (Unionida: Unionidae & Margaritiferidae) of Wisconsin, USA," co-authored by three former University of Wisconsin-Stevens Point students — Ryan Pappas, Charlie Jordan and Madalyn Zimbric. The two main conclusions from this research are that 1) there is still a lot of work left to do to fully understand freshwater mussel distributions in Wisconsin, and 2) available radiocarbon dates suggest that most species with disjunctions between the Interior and Great Lakes basins arrived after 5000 years before present. This presentation was a triumph of collaboration between the MUSSELp and undergraduate researchers.
On top of all this, MUSSELp alumna Katie Vazquez, recently Ph.D'd by the University of Pennsylvania, won a best student presentation award for her non-mussel-related presentation. And, MUSSELp heir apparent John Pfeiffer of the University of Florida presented his excellent research on Thai freshwater mussels.
The AMS meeting was an outstanding opportunity to share mussel research with our colleagues and for students to get their feet in the malacological door. Hooray!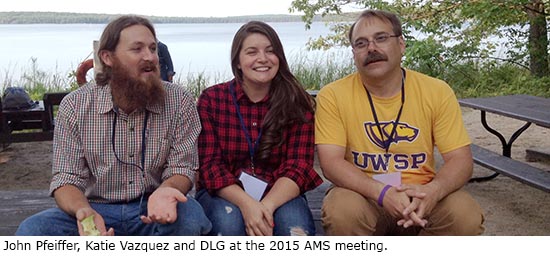 Phylum Mollusca
Class Bivalvia
Subclass Palaeoheterodonta
Order Unionoida
Family UNIONIDAE Rafinesque, 1820
Subfamily AMBLEMINAE Rafiensque, 1820
Tribe LAMPSILINI Ihering, 1901

Genus Venustaconcha Frierson, 1927

Species Venustaconcha ellipsiformis (Conrad, 1836)
To find out more about Venustaconcha and Wisconsin freshwater mussels, check out:
Baker, F.C. 1928. The fresh water Mollusca of Wisconsin. Part II. Pelecypoda. Bulletin of the Wisconsin Geological and Natural History Survey. University of Wisconsin 70(2):vi-495 + 76 plates.
Cummings, K.S. & C.A. Mayer. 1992. Field guide to freshwater mussels of the Midwest. Illinois Natural History Survey, Manual 5. 194 pp.
Mathiak, H.A. 1979. A River Survey of the Unionid Mussels of Wisconsin 1973-1977. Sand Shell Press, Horicon WI. 75 pp..
Zanatta, D.T. & A.T. Harris. 2013. Phylogeography and genetic variability of the freshwater mussels (Bivalvia: Unionidae) Ellipse, Venustaconcha ellipsiformis (Conrad 1836), and Bleeding Tooth, V. pleasii (Marsh 1891) . American Malacological Bulletin 31(2): 267-279.