Page last updated
10 October 2015
Mussel of the Month
The October 2015 Mussel of the Month is Lepidodesma languilati. Lepidodesma is a monotypic genus endemic to the Yangtze Basin in China.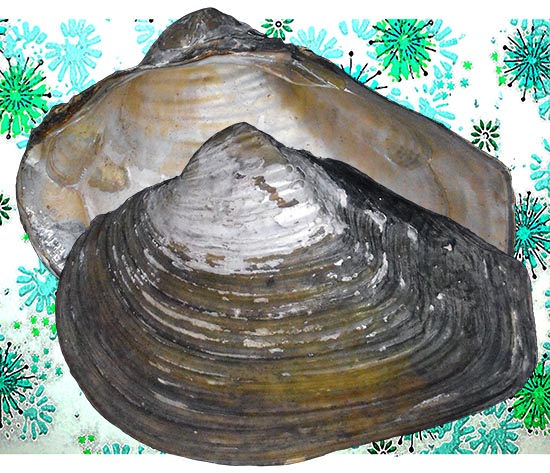 MNHN. Yangtze River, [Jiangsu Province,] China; Heude! Syntype.
With the start of the academic year, no one has time to read (or write) a long, involved Mussel of the Month. It is times like these that we turn to freshwater mussel species about which we know very little. The less is known, the more our ignorance and brevity can be forgiven.
Lepidodesma languilati is one of those mussels. The MUSSEL Project Database provides a string of references that mention this species, but that is just about all they do. The IUCN Red List hit the nail on the head when they tagged this very large bivalve (the shell depicted above is 140 mm long according to Heude, 1874) as "data deficient." In our museum tour of the world and elsewhere, we have only seen 10 lots.
When we did our checklist almost a decade ago, the current consensus was that there were two species in the genus Lepidodesma: L. languilati and L. aligera (Graf & Cummings, 2007). Recently, though, He & Zhuang (2013) sunk the latter into the former, and we have updated our database accordingly. That is it. That's all we know.
Phylum Mollusca
Class Bivalvia
Subclass Palaeoheterodonta
Order Unionoida
Family UNIONIDAE Rafinesque, 1820
Subfamily UNIONINAE s.s.
Tribe UNIONINI s.s.

Genus Lepidodesma Simpson, 1896

Species Lepidodesma languilati (Heude, 1874)
To find out what you can about Lepidodesma, check out:
Graf, D.L. & K.S. Cummings. 2007. Review of the systematics and global diversity of freshwater mussel species (Bivalvia: Unionoida). Journal of Molluscan Studies 73: 291-314.
He, J. & Zhuang, Z. 2013. The Freshwater Bivalves of China. ConchBooks, Harxheim, Germany. 198 pp.
Heude, R.P. 1874. Diagnoses molluscoum in fluminibus provinciæ Nankingensis collectorum. Journal de Conchyliologie 22: 112-118.