Page last updated
9 November 2015
Mussel of the Month
The November 2015 Mussel of the Month is Nephritca poeyana. Nephritica is a Mesoamerican genus of two species.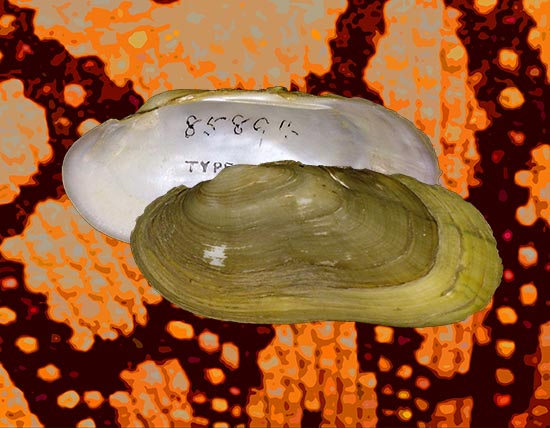 USNM 85894. Rio de las Baisas, near Coyucan, Mexico; Poey! [type]
As ever, when times are busy we turn to Mesoamerican species for the Mussel of the Month. The less there is to contribute the less we have to write!
So here comes Nephtritica poeyana to save the day. Nephritica is a genus without any distinguishing features except that Frierson (1927) created it without description for N. poeyana and N. haricotti. Haas (1969) followed Frierson's lead, providing a vague shell description but noticing no diagnostic characteristics. Then we (Graf & Cummings, 2007) followed Haas, and here we are now. 5 museum lots, two species barely known from other than the types. Somebody really should work up those Mesoamerican mussels...
Phylum Mollusca
Class Bivalvia
Subclass Palaeoheterodonta
Order Unionoida
Family UNIONIDAE Rafinesque, 1820
Subfamily AMBLEMINI Rafinesque, 1820
Tribe PLEUROBEMINI Hannibal, 1912

Genus Nephritica Frierson, 1927

Species Nephritica poeyana (Lea, 1857)
To find out what you can about Nephritica and Central American freshwater mussels, check out:
Frierson, L.S. 1927. A Classified and Annotated Check List of the North American Naiades. Baylor University Press, Waco, Texas. 111 pp.
Graf, D.L. & K.S. Cummings. 2007. Review of the systematics and global diversity of freshwater mussel species (Bivalvia: Unionoida). Journal of Molluscan Studies 73: 291-314.
Haas, F. 1969. Superfamilia Unionacea. Das Tierreich 88: 1-663.