Page last updated
5 April 2017
Mussel of the Month
The April 2017 Mussel of the Month is Protunio messageri. Protunio is a monotypic genus from northern Vietnam.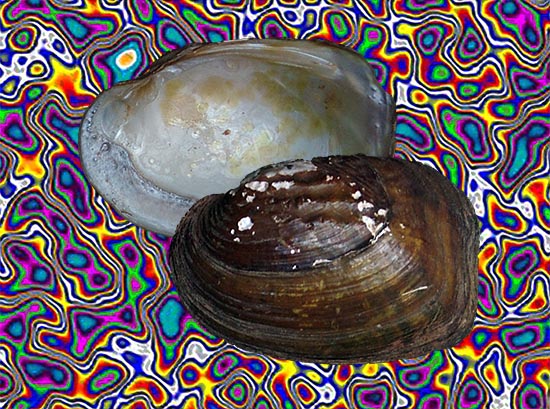 MNHN. entre Lang-Son et That Khé [Vietnam] (type).
We chose Protunio messageri as Mussel of the Month because we are busy: something easy for which there isn't much to say. It seems like a perfectly valid species, and we have 23 lots in our database of specimens, all from northern Vietnam.
Ever since Haas (1912) described the genus (the original description was really just applying the name in a plate caption), the species, Protunio messageri has turned up on all the lists (e.g., Thiele, 1934; Haas, 1969; Dang et al., 1980; Graf & Cummings, 2007). Although we are fuzzy with how to classify it in the Unionidae, this is definitely a thing.
But, P. messageri also has an IUCN Red List entry with this interesting taxonomic note:
"The type specimens of Unio messageri do not match the species recorded from Viet Nam, although they come from the same locality. These are possibly two species under the same heading. This assessment refers to the more recently described of the two species."
So, P. messageri is apparently endangered but it is not the species that has its type pictured here (which matches the other specimen records in our database)? Well, the specimen figured here is Protunio messageri, so the Red List might be talking about something else. Perhaps the species figured by Dang et al. (1980)?

Phylum Mollusca
Class Bivalvia
Subclass Palaeoheterodonta
Order Unionoida
Family UNIONIDAE Rafinesque, 1820

Genus Protunio Haas, 1912

Species Protunio messageri (Bavay & Dautzenberg, 1901)
To find out more about Protunio, check out:
Dang, N.T., T.B. Thai & V.M. Pham. 1980. Dinh Loai Dong Vat Khong Zuong Song Nuoc Ngot Bac Viet Nam, Nha Xuat Ban Knoa Hoc Va Ky Thuat, Ha Noi. 573 pp.
Graf, D.L. & K.S. Cummings. 2007. Review of the systematics and global diversity of freshwater mussel species (Bivalvia: Unionoida). Journal of Molluscan Studies 73: 291-314.
Haas, F. 1912. Die Unioniden. [in] H.C. Küster, Systematisches Conchylien-Cabinet von Martini und Chemnitz 9 (pt. 2, h. 46): 113-136, pls. 30-35.
Haas, F. 1969. Superfamilia Unionacea. Das Tierreich, Leif. 88. Walter de Gruyter and Co., Berlin. 663 pp.
Thiele, J.1934.Handbuch der systematischen Weichtierkunde. Teil 3. Scapopoda; Bivalvia; Cephalopoda. Additions and corrections for Teile 1-2 and Index for Tiel 3. 3:779-1022.