Page last updated
31 May 2017
Mussel of the Month
The June 2017 Mussel of the Month is Disconaias disca. Disconaias is a largely Mesoamerican genus of six species, found from the Rio Grande of Texas south into Mexico.
Mesoamerican freshwater mussels like Disconaias disca are poorly understood (a frequent complaint on this web site, e.g., Disconaias). Our ignorance is largely the result of a lack of modern attention. The last time the freshwater mussels of Mexico and Central America were "revised" was by Frierson in 1927. Subsequent lists of those species basically just followed him, with minor updates in genus-level classification (Haas, 1969; Graf & Cummings, 2007).
However, over the past semester, University of Wisconsin-Stevens Point undergraduate Elena Hausmann has been reinvigorating the MUSSEL Project effort to update the state of our knowledge of Mesoamerican mussels. For us, this project got underway with some seriousness in 2003 when we started collecting specimen records for the MUSSELp database. For more than a decade, we have been gathering museum records of tropical freshwater mussels, including those of Neotropical Central America and Mexico. In 2014, this long-term project saw a jolt of activity when we helped to curate a large collection of Mexican specimens in the Bereza collection at the Smithsonian. Caitlin Luebke and Rachel Sommer (former UWSP undergraduates) presented the results of that work at the Mollusca 2014 meeting in Mexico City.
Elena's effort since the start of 2017 has been to work through the MUSSELpdb records from Mexico and assignment to the freshwater ecoregions of the area. The findings were quite interesting. Based on 908 specimen records (as well as the literature), there are 75 specimens in Mexico and adjacent Guatemala. However, these records are not uniformly distributed. In fact, of the 26 relevant freshwater ecoregions, only four account for 84% of the specimen records. These four ecoregions are also the ones with the highest species richness (20-29 species in each).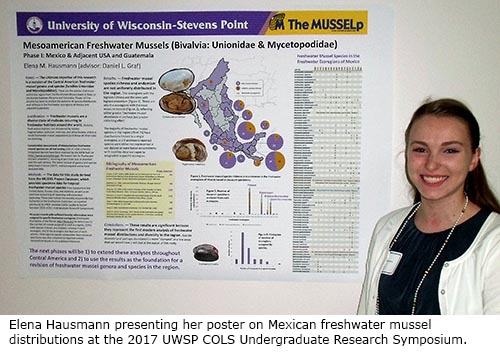 Phylum Mollusca
Class Bivalvia
Subclass Palaeoheterodonta
Order Unionoida
Family UNIONIDAE Rafinesque, 1820
Subfamily AMBLEMINAE Rafinesque, 1820
Tribe Lampsilini Ihering, 1901

Genus Disconaias Crosse & Fischer, 1894

Species Disconaias disca (Lea, 1838)
To find out more about Disconaias and Mesoamerican mussels, check out:
Frierson, L.S. 1927. A classification and annotated check list of the North American naiades. Baylor University Press, Waco, Texas. 111 pp.
Graf, D.L. & K.S. Cummings. 2007. Review of the systematics and global diversity of freshwater mussel species (Bivalvia: Unionoida). Journal of Molluscan Studies 73: 291-314.
Haas, F. 1969. Superfamilia Unionacea. Das Tierreich, Leif. 88. Walter de Gruyter and Co., Berlin. 663 pp.