Page last updated
11 November 2017
Mussel of the Month
The November 2017 Mussel of the Month is Parvaspina collina. Parvaspina is a genus of two species endemic to the southern Atlantic Slope of the eastern United States.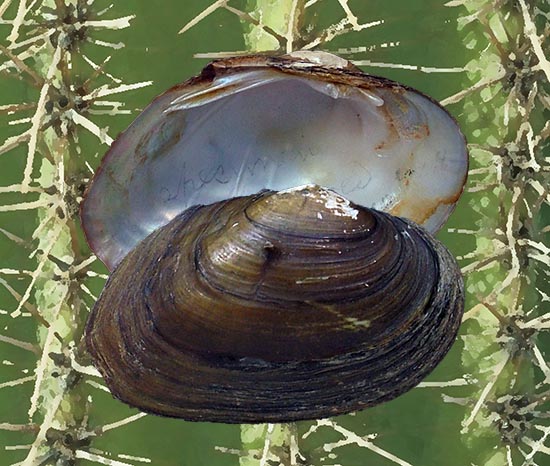 ANSP 41007. Rockbridge Co., Va. (T.A. Conrad!). (type).
We have a new genus to write about this month!
The problem of "Pleurobema" collina has been with us for a while. Whenever P. collina had been included in a phylogenetic analysis, it was not resolved distant from Pleurobema (Campbell et al., 2005, 2008), and most of the time, the rest of Pleurobema was not recovered as monophyletic (Burdick & White, 2007; Campbell & Lydeard, 2012a-b; Burlakova et al., 2012; Pfeiffer et al., 2016).
The recent analysis by Perkins et al. (2017) recovered P. collina in a clade with "Elliptio" steinstansana, distinct from both Pleurobema and Elliptio. This phylogenetic result has been enshrined in classification by assigning those two species to a new genus, Parvaspina. Progress!
Next month, the classification and MUSSEL Project database served on this site will be updated to reflect this and other updates to mussel taxonomy. Watch this space!
Phylum Mollusca
Class Bivalvia
Subclass Palaeoheterodonta
Order Unionoida
Family UNIONINDAE Rafinesque, 1820
Subfamily AMBLEMINAE Rafinesque, 1820
Tribe PLEUROBEMINI Hannibal, 1912

Genus Parvaspina Perkins, Johnson & Gangloff, 2017

Species Parvaspina collina (Conrad, 1837)
To find out more about Parvaspina collina and the phylogeny of North American freshwater mussels, check out:
Burdick, R.C. & M.W. White. 2007. Phylogeography of the wabash pigtoe, Fusconaia flava (Rafinesque, 1820) (Bivalvia: Unionidae). Journal of Molluscan Studies 73: 367-375.
Distribution, genetic analysis and conservation priorities for rare Texas freshwater molluscs in the genera Fusconaia and Pleurobema. Aquatic Biosystems 8(12): 15 pp.
Campbell, D.C., J.M. Serb, J.E. Buhay, K.J. Roe, R.L. Minton & C. Lydeard. 2005. Phylogeny of North American amblemines (Bivalvia, Unionidae): prodigious polyphyly proves pervasive across genera. Invertebrate Biology 124(2): 131-164.
Campbell, D.C., P.D. Johnson, J.D. Williams, A.K. Rindsberg, J.M. Serb & C. Lydeard. 2008. Identification of 'extinct' freshwater mussel species using DNA barcoding. Molecular Ecology Research 8: 711-724.
Campbell, D.C. & C. Lydeard. 2012a. Molecular systematics of Fusconaia (Bivalvia: Unionidae: Ambleminae). American Malacological Bulletin 30(1): 1-17.
Campbell, D.C. & C. Lydeard. 2012b. The genera of the Pleurobemini (Bivalvia: Unionidae: Ambleminae). American Malacological Bulletin 30(1): 19-38.
Perkins, M.A., N.A. Johnson & M.M. Gangloff. 2017. Molecular systematics of the critically-endangered North American spinymussels (Unionidae: Elliptio and Pleurobema) and description of Parvaspina gen. nov.. Conservation Genetics 18: 745-757.
Pfeiffer, J.M., N.A. Johnson, C.R. Randklev, R.G. Howells & J.D. Williams. 2016. Generic reclassification and species boundaries in the rediscovered freshwater mussel 'Quadrula' mitchelli (Simpson in Dall, 1896). Conservation Genetics 17(2): 279-292.