Page last updated
31 May 2018
Mussel of the Month
The June 2018 Mussel of the Month is Leaunio lienosus. Leaunio is a newly recognized genus of five species endemic to eastern North America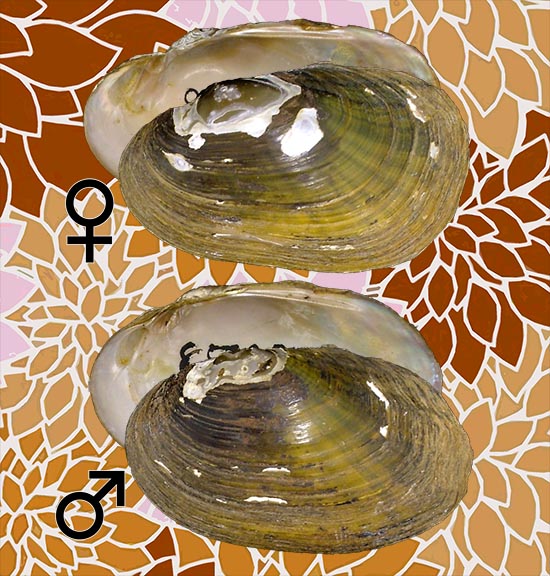 USNM 85122. [Chattahoochee River] Columbus, Georgia, USA.
(types of Unio intercedens Lea, 1857).
Back in April with Villosa, we talked about some of the new genera introduced by Watters (2018). Leaunio is one of those new taxa. In fact, (with some qualification) the last two years have been a modern explosion of new freshwater mussel genera.
Since we kicked off the MUSSEL Project in 2003, 10 new freshwater mussel genera have been described. Fully of 10% of those were described by us (Germainaia), and 70% have been described since 2017.
In the big picture (click the graph below to see it larger), this latest flurry of genus-group level activity is a minor blip. During the 19th and early 20th century, there were multiple booms of genus-creating, some attributable to particular authors and works — for example, Rafinesque (1820, 1831), Swainson (1840), Bourguignat (1880-1881), Locard (1889, 1890), Servain (1890), Fischer & Crosse (1894), Simpson (1900), Frierson (1927). Other authors like Fritz Haas trickled their genera out across multiple years.

The colors reflect how many genera described in a particular year are currently treated as valid (green) and how many are regarded to be synonyms (gold).
In addition to describing new genera, we (as in the freshwater mussel systematics community) have been resurrecting genera that had been synonymized. A decade ago, Graf & Cummings (2007) recognized 165 valid freshwater mussel genera. Today: 177! What a time to be alive.
Phylum Mollusca
Class Bivalvia
Subclass Palaeoheterodonta
Order Unionoida
Superfamily UNIONOIDEA Rafinesque, 1820
Family UNIONIDAE s.s
Subfamily AMBLEMINAE Rafinesque, 1820
Tribe LAMPSILINI Ihering, 1901
Genus Leaunio Watters, 2018

Species Leaunio lienosus (Conrad, 1834)
(+ Unio intercedens Lea, 1857)
To find out more about Leaunio and and other genera of freshwater mussels, check out:
Bourguignat. 1880-1881. Matériaux historiques sur les mollusques acephales du système Européen. Mater. Moll. Acécphales Syst. Europ. 1: 1-387.
Fischer, P. & H. Crosse. 1894. Études sur les mollusques terrestres et fluviatiles du Mexique et du Guatemala. Mission Scientifique au Mexique et dans l'Amerique Central, Recherches Zoologiques 2(15): 489-576.
Frierson, L.S. 1927. A Classification and Annotated Check List of the North American Naiades. Baylor University Press, Waco, Texas. 111 pp.
Graf, D.L. & K.S. Cummings. 2007. Review of the systematics and global diversity of freshwater mussel species (Bivalvia: Unionoida). Journal of Molluscan Studies 73: 291-314.
Locard, A. 1889. Revision des espèces Françaises Margaritana et Unio. Contributions a la Faune Malacologique Française 13: 163 pp.
Locard, A. 1890. Revision des espèces Françaises appartenant aux genres Pseudanodonta et Anodonta. Contributions a la Faune Malacologique Française 14: 240 pp.
Rafinesque, C.S. 1820. Monographie des coquilles bivalves fluviatiles de la Riviere Ohio, contenant douze genres et soixante-huit especes. Annales Générales des Sciences Physiques 5 (13): 287-322.
Rafinesque, C.S. 1831. Continuation of a monograph of the bivalve shells of the river Ohio and other rivers of the western states. By Prof. C.S. Rafinesque. (Published at Brussels, September, 1820) Containing 46 species, from No. 76 to no. 121. Including an appendix on some bivalve shells of the rivers of Hindostan, with a supplement on the fossil bivalves of the Western states, and the Tulosites, a new genus of fossils. Philadelphia, Pennsylvania. 8 pp.
Servain, G. 1890. Des Acéphales lamellibranches fluviatiles du système Européen. Bulletins de la Société Malacologique de France 7: 281-323.
Simpson, C.T. 1900. Synopsis of the naiades, or pearly fresh-water mussels. Proceedings of the United States National Museum 22: 501-1044.
Swainson, W.A. 1840. A Treatise on Malacology: or the Natural Classification of Shells and Shell-Fish. London. Printed for Longman, Orme, Brown, Green, & Longman, Peternoster Row 419 pp.
Watters, G.T. 2018. A preliminary review of the nominal genus Villosa of freshwater mussels (Bivalvia, Unionidae) in North America. Visaya, Supplement (10). Conchology, Inc., Lapu-Lapu, Philippines. 140 pp.