Page last updated
6 April 2022
Mussel of the Month
The April 2022 Mussel of the Month is Mycetopoda soleniformis. Mycetopoda is a genus of four species, distributed in Central and South America.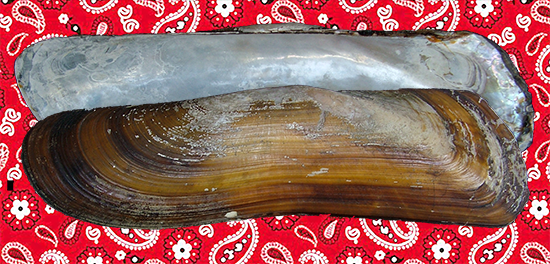 MNHN. [Rio Piray] Santa Cruz de la Sierra, Bolivia (Type).
We featured Mycetopoda pittieri as the Mussel of the Month back in February of 2005. At that time, the prevailing sentiment was that there were four valid species of Mycetopoda and only one species had every been included in a phylogenetic analysis (Graf, 2000; Graf & Cummings, 2006).
Today our knowledge rests in precisely the same spot: four widespread species based entirely on morphological characters and biogeography, among which the phylogenetic relationships have yet to be tested (Graf & Cummings, 2021).
Phylum Mollusca
Class Bivalvia
Subclass Palaeoheterodonta
Order Unionoida
Superfamily ETHERIOIDEA Deshayes, 1830
Family MYCETOPODIDAE Gray, 1840
Subfamily MYCETOPODINAE s.s.
Genus Mycetopoda d'Orbigny, 1835
Species Mycetopoda soleniformis d'Orbigny, 1835
To find out more about the phylogeny and classification of Mycetopoda, check out:
Graf, D.L. 2000. The Etherioidea revisited: a phylogenetic analysis of hyriid relationships (Mollusca: Bivalvia: Paleoheterodonta: Unionoida). Occasional Papers of the Museum of Zoology, University of Michigan (729): 1-21.
Graf, D.L. & K.S. Cummings. 2006. Palaeoheterodont diversity (Mollusca: Trigonioida + Unionoida): what we know and what we wish we knew about freshwater mussel evolution. Zoological Journal of the Linnean Society 148: 343-394.
Graf, D.L. & K.S. Cummings. 2021. A 'big data' approach to global freshwater mussel diversity (Bivalvia: Unionoida), with an updated checklist of genera and species. Journal of Molluscan Studies 87(1): eyaa034 (36 pp.).