Page last updated
1 June 2023
Mussel of the Month
The June 2023 Mussel of the Month is Chamberlainia somsakpanhai. Chamberlainia is a genus of three species found in Southeast Asia.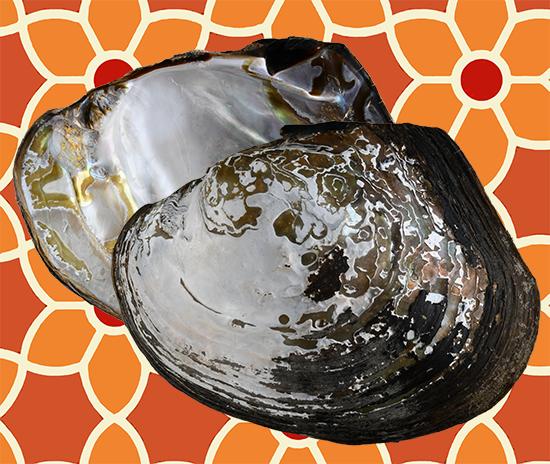 ZMMSU 00491. Chi River, Maha, Sarakham, Thailand (holotype).
Shell images courtesy of Ekgachai Jeratthitikul.
Chamberlainia hainesiana was Mussel of the Month back in July 2007, when Chamberlainia was treated as two species (Haas, 1969; Graf & Cummings, 2007): C. hainesiana and C. paviei. For our next go-round with the genus, the latter species was synonymized into the former, and Chamberlainia was regarded as monotypic (Brandt, 1974; Graf & Cummings, 2021). Then came the revisionary phylogenies of Goncalves et al. (2022) and Kongim et al. (2023), and Chamberlainia has increased to three species: C. hainesiana, C. duclerci, and our current Mussel of the Month, Chamberlainia somsakpanhai.
There are a couple interesting facts to point out about Chamberlainia somsakpanhai. By our count, this is the fourth Recent freshwater mussel species named for Prof. Somsak Panha of Chulalongkorn University in Thailand: Yaukthwa panhai, Hyriopsis panhai, Bineurus panhai, and now Chamberlainia somsakpanhai. The list of people with more Recent freshwater mussel species named for them is pretty short. Bourguignat has the most, with 14 species-group level names, and Locard has 8. Bridoux, Joubert, Kobelt, Moinet, Morelet, Simpson, and von Martens each have 6, and there are only 5 others with at least 4 species named for them — including Prof. Panha.*
Lopes-Lima et al. (2017) published the first DNA sequences for phylogenetic analyses of what they called Chamberlainia hainesiana, and Froufe et al. (2019) provided whole F- and M-type mitochondrial genomes. These have been widely applied in subsequent phylogenetic analyses of Asian freshwater mussels. However, it turns out that these widely used sequences from Genbank are actually Chamberlainia somsakpanhai! Even though the description is dated 6 May 2023, the species has been well represented in cladograms since 2017! This can be seen on the Chamberlainia cladomics page. As new data become available, terminal taxa are re-identified in the MUSSELpdb.**
--
* This is based on a quick tally of species names. Please accept our apologies if we have left off someone important or provide an inaccurate number. There is only so much time to spend on a Mussel of the Month entry.
** Updating everyone else's phylogenetic data is time consuming, so not every instance of re-identification may have made it to the MUSSELpdb at the present instant. Be patient!
Phylum Mollusca
Class Bivalvia
Subclass Palaeoheterodonta
Order Unionoida
Superfamily UNIONOIDEA Rafinesque, 1820
Family UNIONIDAE s.s.
Subfamily GONIDEINAE Ortmann, 1916
Tribe CHAMBERLAINIINI Bogan, Froufe & Lopes-Lima, 2017

Genus Chamberlainia Simpson, 1900
Species Chamberlainia somsakpanhai Kongim, Sutcharit & Jeratthitkul, 2023
To find out more about the phylogenetics and classification of Chamberlainia, check out:
Brandt, R.A.M. 1974. The non-marine aquatic Mollusca of Thailand. Archiv für Molluskenkunde 105: 1-423.
Froufe, E., I. Bolotov, D.C. Aldridge, A.E. Bogan, S. Breton et al. 2019. Mesozoic mitogenome rearrangements and freshwater mussel (Bivalvia: Unionoidea) macroevolution. Heredity 124: 182-196.
Goncalves, A., A. Zieritz, M. Lopes-Lima, G. Deein & J. Pfeiffer. 2022. Taxonomic revision and conservation assessment of the Southeast Asian freshwater mussel genus Chamberlainia Simpson, 1900. Journal of Molluscan Studies 88. eyac08 (12 pp.).
Graf, D.L. & K.S. Cummings. 2007. Review of the systematics and global diversity of freshwater mussel species (Bivalvia: Unionoida). Journal of Molluscan Studies 73: 291-314.
Graf, D.L. & K.S. Cummings. 2021. A 'big data' approach to global freshwater mussel diversity (Bivalvia: Unionoida), with an updated checklist of genera and species. Journal of Molluscan Studies 87(1). eyaa034 (36 pp.).
Haas, F. 1969. Superfamilia Unionacea. Das Tierreich 88: 1-663.
Kongim, B., C. Sutcharit & E. Jeratthitikul. 2023. Discovery of a New Endangered Freshwater Mussel Species in the Genus Chamberlainia Simpson, 1900 (Bivalvia: Unionidae) from Mekong Basin. Tropical Natural History 7: 242-250.
Lopes-Lima, M., E. Froufe, V.T. Do, M. Ghamizi, K.E. Mock et al. 2017. Phylogeny of the most species-rich freshwater bivalve family (Bivalvia: Unionida: Unionidae): Defining modern subfamilies and tribes. Molecular Phylogenetics and Evolution 106: 174-191.