nominal species Unio elongata Lamarck, 1819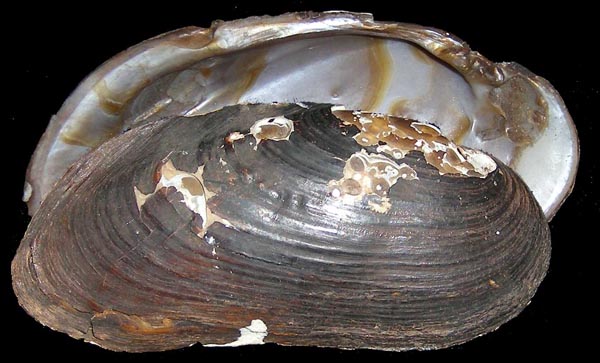 Pennant, 1777, British Zool. 4: pl. 43, fig. 18.
Lamarck, 1819, Hist. Natur. Anim. sans Vert. 6: 70, sp. 2.
Type(s): POSSIBLE SYNTYPE MNHN_MPL_0028, Habite dans les rivières de l'Angleterre, et probablement du nord de l'Europe [Lives in the rivers of England and Northern Europe probably].
Taxonomic Opinions
+ Margaritifera margaritifera (Linnaeus, 1758) — (Vinarski & Kantor, 2016)
+ Margaritifera margaritifera — (Bolotov et al., 2013)
+ Margaritifera margaritifera Linnaeus, 1758 — (Fauna Europaea, 2012)
+ Margaritifera margaritifera (Linnaeus, 1758) — (Kantor et al., 2010)
+ Margaritifera margaritifera (Linnaeus, 1758) — (Araujo et al., 2009)
+ Margaritifera margaritifera (Linnaeus, 1758) — (Watters et al., 2009)
+ Margaritifera margaritifera (Linnaeus, 1858) [sic] — (Graf, 2007)
= Margaritifera elongata (Lamarck, 1819) — (Kantor & Sysoev, 2005)
= Margaritifera elongata (Lamarck, 1819) — (Starobogatov et al., 2004)
= Margaritifera elongata (Lamarck, 1819) — (Bogatov et al., 2003)
+ Margaritifera margaritifera (Linnaeus, 1758) — (Ziuganov et al., 1994)
+ Margaritifera (s.s.) margaritifera margaritifera (Linnaeus, 1758) — (Haas, 1969)
+ Margaritifera margaritifera margaritifera (Linnaeus, 1758) — (Haas, 1940)
+ Margaritana margaritifera (Linné) — (Germain, 1931)
+ Margaritana margaritifera (Linnaeus, 1758) — (Simpson, 1914)
+ Margaritana margaritifera (Linnaeus) — (Preston, 1912)
+ Margaritana margaritifera (Linnaeus, 1758) — (Simpson, 1900)
= Margaritana elongata de Lamarck — (Locard, 1899)
+ Margaritana margaritifera (Lin.) — (Drouët, 1898)
= Margaritana elongata Lamarck — (Dumas, 1895)
= Margaritana elongata de Lamarck — (Locard, 1893)
= Margaritana (Margaritiferana) elongata — (Fagot, 1893)
= Margaritana elongata — (Fagot, 1892)
= Margaritana margaritifera forma elongata (Lam.) — (Westerlund, 1890)
= Margaritana elongata de Lamarck — (Locard, 1889)
+ Margaron (Margaritana) margaritifera (Lin.) — (Lea, 1870)
= Unio elongatus Lamarck, 1819 — (Sowerby, 1868)
= Margaritana margaritifera var. elongata Lam. — (Colbeau, 1868)
+ Unio (Margaritana) margaritifer (Linn., 1758) — (Drouët, 1857)
= Unio (Margaritana) margaritifer var. C elongatus Lam. — (Moquin-Tandon, 1855)
+ Unio margaritifer Linné — (Küster, 1855)
+ Unio (Baphia) margaritifera (L.) — (Mörch, 1853)
+ Margaron (Margaritana) margaritifera (Lin.) — (Lea, 1852)
+ Margaritana margaritifera (Linn.) — (Dupuy, 1852)
= Damaris elongata — (Leach, 1852)
= Margaritana elongata (Lamarck, 1819) — (Swainson, 1840)
+ Margarita (Margaritana) margaritifera (Linnaeus, 1758) — (Lea, 1836)
+ Alasmodonta margaritifera (Linné) — (Ferussac, 1835)
+ Unio margaritifer Retz. — (Rossmässler, 1835)
= Unio elongata — (Jay, 1835)
+ Unio margaritifera Linnaeus — (Lea, 1834)
+ Alasmodonta [sic] margaritifera Linnaeus — (Lea, 1829)
+ Unio margaritiferus "Gaertn." — (Menke, 1828)
= Unio elongatus Lamarck, 1819 — (Wood, 1828)
= Unio elongata Lam. — (Nilsson, 1822)
+ Unio margaritifera (Linnaeus, 1758) — (Pfeiffer, 1821)
= Unio elongata Lamarck, 1819 — (Lamarck, 1819)