Page last updated
Fri 17 Jan 2020
The Freshwater Mussels (Unionoida) of the World (and other less consequential bivalves)
FM(U)otW(aolcb) is the web version of the MUSSEL Project Database. Follow the links to browse the data or use the custom Google search field. Either way, you win!
This page reports the specimens in the MUSSELpdb and provides a map if geocodes are known.
Search the database pages:
---
Bivalvia | Unionoida | Unionoidea | Unionidae | Ambleminae | Quadrulini | Cyclonaias
species Cyclonaias pustulosa (Lea, 1831): specimens
31 nominal species as synonyms.
Range: Widespread in the Interior Basin and the Gulf Coastal Plain (west of the Mobile Basin), USA.
Map of Georeferenced Specimens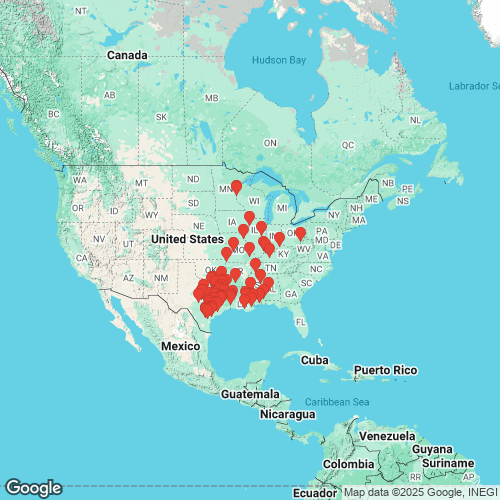 ---

USA


ANSP_10285
Jackson, La


ANSP_10287A
Bayou Teche, Louisiana


ANSP_20250
Kentucky River


ANSP_416329
Sangamon River, Lake of the Woods, Mahomet, Champaign Co., Illinois 40.2040° N, 88.3876° W


USNM_84572
Texas


USNM_84204
Cahaba R., Ala.


USNM_84215
Wabash River, Ind.


ANSP_20220
Green River


USNM_84271
Pearl River, Jackson, Miss


USNM_85763
Columbus, Miss.


USNM_85768
Rutersville, Texas


UMMZ_113538
Tallapoosa River, Tallassee, Elmore, Alabama


USNM_84275
Alabama R., Ala.


USNM_84277
near New Orleans, La.


USNM_84290
Enterprise, Lauderdale Co., Miss. [Alabama]


USNM_84298
N.C.
Page updated: 10:01:06 Fri 17 Jan 2020