Page last updated
1 January 2011
Mussel of the Month
The January 2011 Mussel of the Month is Lamprotula gottschei. Lamprotula is a genus of around 20 species that ranges from tropical Asia north to Korea and Japan.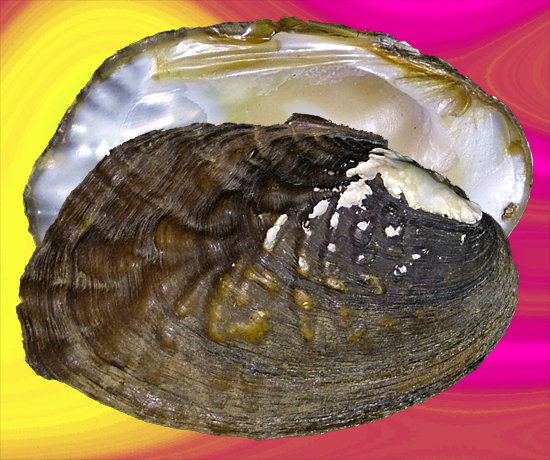 ZMB 38357. Pukchang, Korea (type).
Lamprotula is emblematic of why the species of the Unionidae need to be revised. The genus was originally introduced by Simpson (1900) as a subgenus of Quadrula: shells with bumps on them, but from SE Asia rather than North America. That classification persisted for 100 years (Haas, 1969), and we listed 26 species in the genus Lamprotula (Graf & Cummings, 2007).
However, at the time, we were unaware of research that had been done in China that demonstrated that "Lamprotula" had species with both hooked and non-hooked type glochidia (Wu, 1998; Zhou et al., 2007). Not only was Lamprotula s.l. polyphyletic, but the species belonged to two different major clades! Today, we use the name Aculamprotula for the 5 species known to have hooked-type glochidia (subfamily Unioninae), and Lamprotula s.s. is retained for the rest of the species.
An analogous split took place with Inversidens and Inversiunio, and we suspect that it will occur again as the species of eastern Asia continue to be evaluated using modern methods.
Phylum Mollusca
Class Bivalvia
Subclass Palaeoheterodonta
Order Unionoida
Superfamily UNIONOIDEA Rafinesque, 1820
Family UNIONIDAE s.s

Genus Lamprotula Simpson, 1900

Species Lamprotula gottschei (von Martens, 1894)
To find about more about Lamprotula and Aculamprotula, check out:
Simpson, C.T. 1900. Synopsis of the naiades, or pearly fresh-water mussels. Proceedings of the United States National Museum 22(1205): 501-1044.
Graf, D.L. & K.S. Cummings. 2007. Review of the systematics and global diversity of freshwater mussel species (Bivalvia: Unionoida). Journal of Molluscan Studies 73: 291-314.
Haas, F. 1969. Superfamilia Unionacea. Das Tierreich (Berlin) 88: 663 pp.
Wu, X.-P. 1998. Studies on freshwater shellfish in middle and lower reaches Yangtze River. Institute of Hydrology, Chinese Academy of Sciences. Ph.D. Dissertation. 45 pp.
Zhou, C.-H., S. Ouyang, X.-P. Wu, M. Li. 2007. Phylogeny of the genus Lamprotula (Unionidae) in China based on mitochondrial DNA sequences of 16S rRNA and ND1 genes. Acta Zoologica Sinica 53(6): 1024-1030.