Page last updated
29 July 2011
Mussel of the Month
The August 2011 Mussel of the Month is Friersonia iridella. Friersonia is a monotypic genus known only from southern Mexico.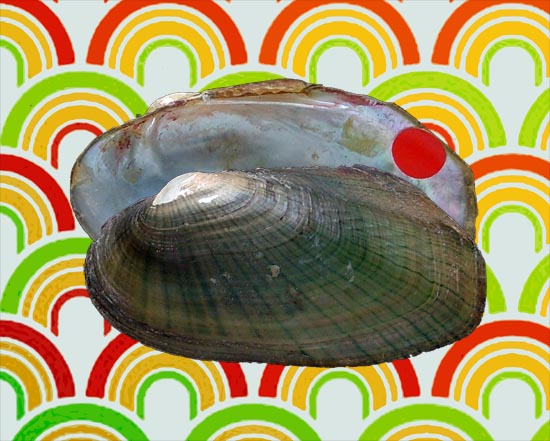 ANSP 93810. Tampico, Mexico (type).
Friersonia is a neat little mussel. We have made a bit of a study of Mesoamerican freshwater mussels, and this is one we run into a lot in collections.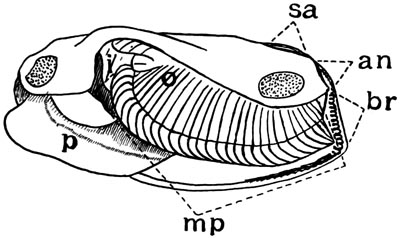 What makes this freshwater mussel so interesting is its unique anatomy. The figure to the right is from Ortmann (1912). There is no doubt that this animal is a lampsiline -- at least in Ortmann's mind, and that is good enough for us. The marsupium, that part of the outer demibranchs where larvae are brooded, is broadly similar to that seen in genera like Lampsilis. However, instead of being limited to the posterior part of the demibranch, it extends over the whole ventral margin. The marsupium is marked mp in the figure.
So, here we have a shell that looks like it might fit nicely in Lampsilis or Villosa or one of those genera, but the reproductive anatomy is quite distinctive. We wish we knew what this meant. Is Friersonia some relictual lampsiline, the bearer of some ancient otherwise extinct morphology? Or, does F. iridella represent some highly modified off-shoot with a specialized marsupium?
Phylum Mollusca
Class Bivalvia
Subclass Palaeoheterodonta
Order Unionoida
Superfamily UNIONOIDEA Rafinesque, 1820
Family UNIONIDAE s.s
Subfamily AMBLEMINAE Rafinesque, 1820
Tribe LAMPSILINI von Ihering, 1901

Genus Friersonia Ortmann, 1912

Species Friersonia iridella (Pilsbry & Frierson, 1907)
If you want to learn more about Friersonia, there aren't many options: