Page last updated
5 December 2011
Mussel of the Month
The December 2011 Mussel of the Month is Acuticosta chinensis. Acuticosta is a genus of six species from the Yangtze River in China.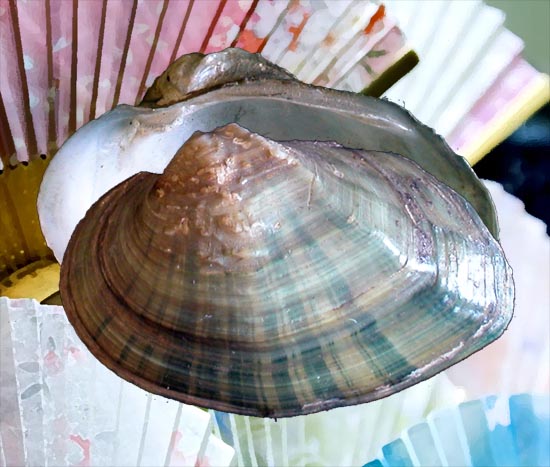 MCZ 175567. "Hong Kong, China." (type)
The last Mussel of the Month of the year is Acuticosta chinensis. This species has been included in phylogenetic analyses of Chinese freshwater mussels, and as such its phylogenetic position is well understood: Unionidae, Unioninae, Unionini.
We don't have much to say about it. It is a good looking shell, and we will leave it at that.
Phylum Mollusca
Class Bivalvia
Subclass Palaeoheterodonta
Order Unionoida
Family UNIONIDAE Rafinesque, 1820
Subfamily UNIONINAE s.s.
Tribe UNIONINI s.s.

Genus Acuticosta Simpson, 1900
Species Acuticosta chinensis (Lea, 1868)
To find out more about Acuticosta and the phylogeny of Chinese mussels, check out:
Huang et al. 2002. Testing the relationships of Chinese freshwater Unionidae (Bivalvia) based on analysis of partial mitochondrial 16S rRNA sequences. Journal of Molluscan Studies 68: 359-363.
Ouyang et al. 2011. Phylogenetic analysis of some Chinese freshwater Unionidae based on mitochondrial COI sequences. Journal of Conchology 40: 543-548.