Page last updated
1 February 2012
Mussel of the Month
The February 2012 Mussel of the Month is Pleuronaia barnesiana. Pleuronaia is a genus of three species endemic to the Cumberland Plateau in eastern North America.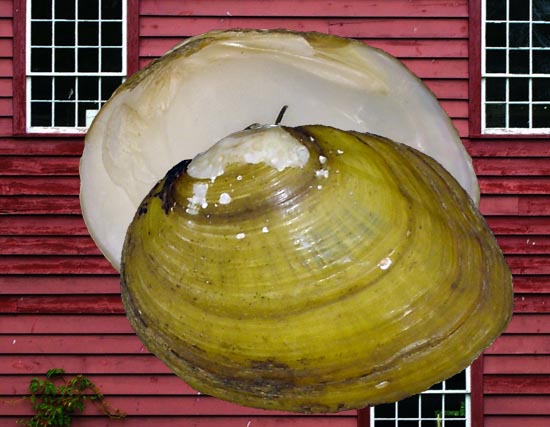 USNM 84586. Cumberland River, Tenn. (holotype).
Pleuronaia is a relatively new genus concept in North America. The taxon was originally introduced by Frierson (1927) and parroted by Haas (1969), but the genus name was never in wide use.
The change came following the comprehensive phylogenetic analyses by Campbell et al. (2005). Pleuronaia is made of parts of Fusconaia, Pleurobema and the now-out-of-use genus Lexingtonia. The species currently included in Pleuronaia are not identical to those originally placed in the genus by Frierson, and diagnostic morphological synapomorphies have not been identified (Williams et al., 2008). Instead, Pleuronaia is applied merely as the oldest available genus name for a clade recovered by a single mitochondrial analysis.
It is significant that taxonomic revisions occur even among the best studied freshwater mussels in the world. We look forward to seeing how the classification can be further improved to reflect evolutionary relationships.
Phylum Mollusca
Class Bivalvia
Subclass Palaeoheterodonta
Order Unionoida
Family UNIONIDAE Rafinesque, 1820
Subfamily AMBLEMINAE Rafinesque, 1820
Tribe PLEUROBEMINI Hannibal, 1912

Genus Pleuronaia Frierson, 1927
Species Pleuronaia barnesiana (Lea, 1838)
To find out more about Pleuronaia and the taxonomy of North American mussels, check out:
Campbell, D.C., J.M. Serb, J.E. Buhay, K.J. Roe, R.L. Minton & C. Lydeard. 2005. Phylogeny of North American amblemines (Bivalvia, Unionidae): prodigious polyphyly proves pervasive across genera. Invertebrate Biology 124(2): 131-164.
Frierson, L.S. 1927. A Classified and Annotated Check List of the North American Naiades. Baylor University Press, Waco. 111 pp..
Haas, F. 1969. Superfamilia Unionacea. Das Tierreich 88: 1-663.
Williams, J.D., A.E. Bogan & J.T. Garner. 2008. Freshwater Mussels of Alabama and the Mobile Basin in Georgia, Mississippi and Tennessee. University of Alabama Press, Tuscaloosa. 908 pp.