Page last updated
29 November 2017
Mussel of the Month
The April 2012 Mussel of the Month is Fusconaia ebena. Fusconaia is a genus of about a dozen species found in eastern North America.
[Since April 2012 when we selected this species as Mussel of the Month, the species has been transferred to the genus Reginaia. This species is now known as Reginaia ebena. — DLG]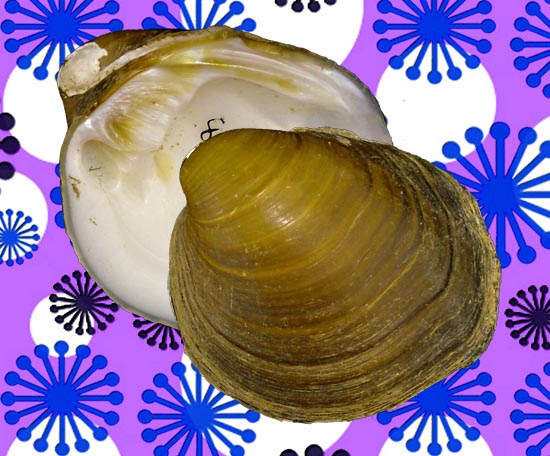 USNM 85792. Cincinnati, Ohio (type).
Fusconaia ebena is an interesting freshwater mussel for a couple reasons. One is that is that it was mentioned early on in a conservation context by Coker (1914). He predicted that the completion of the dam at Keokuk, IA would restrict the movement of Alosa chrysochloris (skipjack herring) and that Upper Mississippi mussels that rely on that fish -- like F. ebena -- would suffer. Early in the 20th century, F. ebena was quite common in Mississippi (Baker, 1928), but today, it merits government protection in many parts of its former range (Cummings & Mayer, 1992).
Another reason that Fusconaia ebena interests us is that, for the last decade or so, it has been hard to know to what genus this species belongs. Cladistic analyses by Lydeard et al. (2000) and Campbell et al. (2005) resolved F. ebena in various positions, usually quite distant from other Fusconaia species but without much in the way of support. Campbell & Lydeard (2012) have recently codified this lack of resolution by erecting a new genus for F. ebena, Reginaia.
As we discussed a couple months ago for Pleuronaia, Reginaia is based solely on mitochondrial DNA. This classification-hypothesis is difficult to reconcile with Ortmann's (1912) report that he found Fusconaia ebena difficult to separate from F. subrotunda using either shell or soft anatomical characters. Moreover, while multiple phylogenetics studies have reported Fusconaia polyphyly, they are all re-analyses of the same three (!) individuals. It is difficult to understand how to extrapolate classification from weak results based on such limited sampling.
For the time being, the MUSSEL Project Database will maintain the use of Fusconaia for F. ebena. When more information becomes available, the genus name Reginaia may indeed be appropriate for this species. However, we do not think it is a good idea to name clades just for the sake of naming them. Instead, we would like our classification to have a little more explanatory power. Fusconaia turns out to not be that useful either, but it has the current advantage of prevailing usage.
We look forward to re-visiting this topic when some synapormorphies have been identified and the position of "Reginaia" ebena among the eastern North American Unionidae is better resolved.
Phylum Mollusca
Class Bivalvia
Subclass Palaeoheterodonta
Order Unionoida
Family UNIONIDAE Rafinesque, 1820
Subfamily AMBLEMINAE Rafinesque, 1820
Tribe PLEUROBEMINI Hannibal, 1912

Genus Fusconaia Simpson, 1900
(+ Reginaia Campbell & Lydeard, 2012)
Species Fusconaia ebena (Lea, 1831)
To find out more about Fusconaia, Reginaia and the classification of the Pleurobemini, check out:
Baker, F.C. 1928. The fresh water Mollusca of Wisconsin. Part II. Pelecypoda. Bulletin of the Wisconsin Geological and Natural History Survey 70(2): 495 pp.
Campbell, D.C., J.M. Serb, J.E. Buhay, K.J. Roe, R.L. Minton & C. Lydeard. 2005. Phylogeny of North American amblemines (Bivalvia, Unionidae): prodigious polyphyly proves pervasive across genera. Invertebrate Biology 124(2): 131-164.
Campbell, D.C. & C. Lydeard. 2012. The genera of the Pleurobemini (Bivalvia: Unionidae: Ambleminae). American Malacological Bulletin 30(1): 19-38.
Coker, R.E. 1914. Water-power development in relation to fishes and mussels of the Mississippi. (Appendix VIII to the Report of the U.S. Commissioner of Fisheries for 1913) Bureau of Fisheries Document (805): 1-28.
Cummings, K.S. & C.A. Mayer. 1992. Field guide to freshwater mussels of the Midwest. Illinois Natural History Survey Manual 5. 194 pp.
Lydeard, C., R.L. Minton & J.D. Williams. 2000. Prodigious polyphyly in imperilled freshwater pearly-mussels (Bivalvia: Unionidae): a phylogenetic test of species and generic designations. [in] The Evolutionary Biology of the Bivalvia (Harper et al., eds.). Geological Society, London Special Publications 177: 145-158.
Ortmann, A.E. 1912. Notes upon the families and genera of the najades. Annals of the Carnegie Museum 8: 222-365.