Page last updated
30 May 2012
Mussel of the Month
The June 2012 Mussel of the Month is Pseudanodonta complanata. Pseudanodonta is a European genus of three species.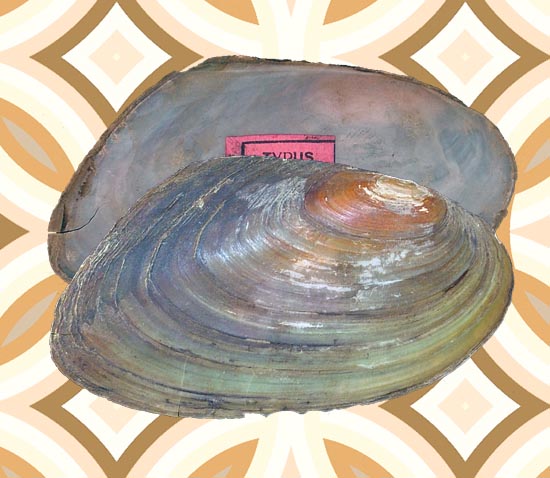 SMF 10652. Elbe (type).
In contrast to mussel-rich temperate North America, the European freshwater mussels are relatively genus- and species-poor -- at least based on the current classification. However, recent research has indicated that the western Palearctic diversity is under-estimated and the taxonomy is evolving to reflect this.
For example, at the beginning of the present millennium, the genus Pseudanodonta was thought to be represented by a single species, P. complanata, and several subspecies (Falkner et al. 2001, 2002). Well, except that the Russian Comparatory School of Malacology regarded the genus to be composed of 5 species (Graf, 2007). Nowadays, we list three species in Pseudanodonta, and we ignore the Russian classification.
The biggest challenge to revising the classification of European freshwater mussel species is the excess number of genus and species names (and associated type specimens) that need to be accounted for. More than 60 species names have been introduced for Pseudanodonta, but that is still not enough for inclusion in the top 10 over-named species! To contribute at least some progress on this front, we have recently published on the genus (Graf, 2010) and species (Graf, 2011) of the 19th century French "New School," the most superfluous of the freshwater mussel super-nominators.
Phylum Mollusca
Class Bivalvia
Subclass Palaeoheterodonta
Order Unionoida
Family UNIONIDAE Rafinesque, 1820
Subfamily UNIONINAE s.s.
Tribe ANODONTINI Rafinesque, 1820

Genus Pseudanodonta Bourguignat, 1876
Species Pseudanodonta complanata (Rossmässler, 1835)
To find out more about Pseudanodonta and European mussel systematics, check out:
Falkner, G., R.A. Bank & T. von Proschwitz. 2001. CLECOM-PROJECT. Check list of the non-marine species-group taxa of the states of northern, atlantic and central Europe (CLECOM I). Heldia 4: 1-76.
Falkner, G., T.E.J. Ripkin & M. Falkner. 2002. Mollusques Continentaux de France: Liste de Référence Annotée et Bibliographie. Patrimoines Naturels 52: 350 pp.
Graf, D.L. 2007. Palearctic freshwater mussel (Mollusca: Bivalvia: Unionoida) diversity and the Comparatory Method as a species concept. Proceedings of the Academy of Natural Sciences of Philadelphia 156: 71-88.
Graf, D.L. 2010. Funeral for the Nouvelle École –iana generic names introduced for freshwater mussels (Mollusca: Bivalvia: Unionoida). Proceedings of the Academy of Natural Sciences of Philadelphia 159: 1-24.
Graf, D.L. 2011. Types of French freshwater mussels (Mollusca, Bivalvia, Unionoidea) in the Arnould Locard Collection at the Muséum national d'Histoire naturelle, Paris. Zoosystema 33: 451-514.