Page last updated
28 June 2012
Mussel of the Month
The July 2012 Mussel of the Month is Barynaias caldwellii. Barynaias is a genus of five species in Central America.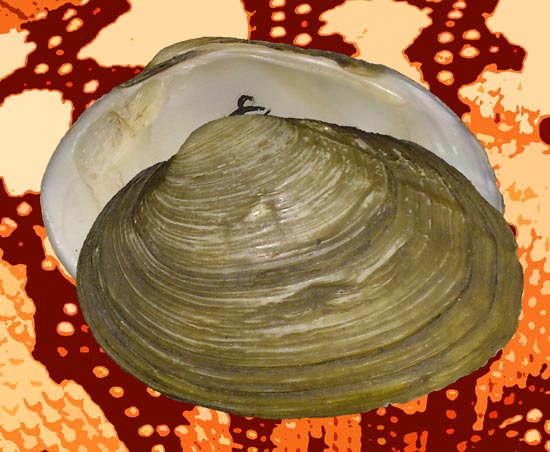 USNM 84396. Isthmus of Darien. Caldwell! (type).
With previous Mesoamerican Mussels of the Month, like Psoronaias and Nephronaias, it has been difficult to find something interesting to write. We know so little about what is actually quite a rich assemblage.
We don't know much more about the species of Barynaias. BUT we did find this interesting tidbit from Isaac Lea (1860) in his description of B. caldwellii:
"A single specimen was brought by Dr. Caldwell from his perilous expedition on the Isthmus of Darien with Lieut. Strain, and these molluscs formed part of the food on which the party subsisted."
We appreciate that these intrepid explores, in their state of hardship, remembered to bring one back for us to enjoy!
Phylum Mollusca
Class Bivalvia
Subclass Palaeoheterodonta
Order Unionoida
Family UNIONIDAE Rafinesque, 1820
Subfamily AMBLEMINAE Rafinesque, 1820
Tribe PLEUROBEMINI Hannibal, 1912

Genus Barynaias Crosse & Fischer, 1894
Species Barynaias caldwellii (Lea, 1838)
To find out more about Barynaias and other Mesoamerican mussels, there aren't too many options. Check out:
Frierson, L.S. 1927. A Classification and Annotated Check List of the North American Naiades. Baylor University Press, Waco, Texas. 111 pp.
Haas, F. 1969. Superfamilia Unionacea. Das Tierreich (Berlin) 88: 663 pp.
Lea, I. 1860. Descriptions of exotic Unionidæ [Exotic Unionidæ]. Journal of the Academy of Natural Sciences 4: 235-273, pls. 33-45 [Obs. 7, part 2: 53-91].