Page last updated
14 August 2012
Mussel of the Month
The August 2012 Mussel of the Month is Chelidonopsis hirundo. Chelidonopsis hirundo is a monotypic genus endemic to the Congo Basin of Africa.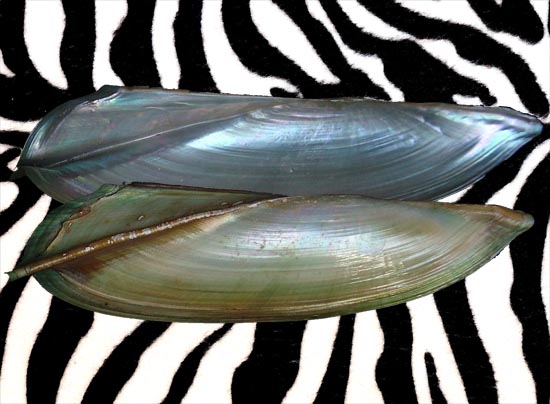 MNHN. Gancini, Congo (type of C. arietina Rochebrune).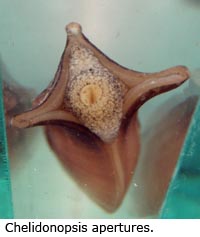 We have already spotlighted Chelidonopsis as Mussel of the Month back in March 2005. But, the IUCN as recently highlighted this freshwater mussel as an Amazing Species. And, we know a little more about this species than we did 7 years ago. For example, while sampling in Malebo Pool in 2006, we collected some live C. hirundo. Unlike the unionids of North America and Europe, iridinids like Chelidonopsis have full-on siphons -- with mantle fusion more like a marine clam. While rooting around in the mud, KSC was injured by the sharp tail-fins of this really interesting shell.

Phylum Mollusca
Class Bivalvia
Subclass Palaeoheterodonta
Order Unionoida
Family IRIDINIDAE Swainson, 1840
Subfamily IRIDININAE s.s.

Genus Chelidonopsis Rochebrune, 1886
Species Chelidonopsis hirundo (von Martens, 1881)
To find out more about Chelidonopsis and the IUCN Red List, check out:
Graf, D.L. & K.S. Cummings. 2006. Freshwater mussels (Mollusca: Bivalvia: Unionoida) of Angola, with description of a new species, Mutela wistarmorrisi. Proceedings of the Academy of Natural Sciences of Philadelphia 155: 163-194.