Page last updated
1 September 2013
Mussel of the Month
The September 2013 Mussel of the Month is Ellipsaria lineolata. Ellipsaria is a monotypic genus of eastern North America.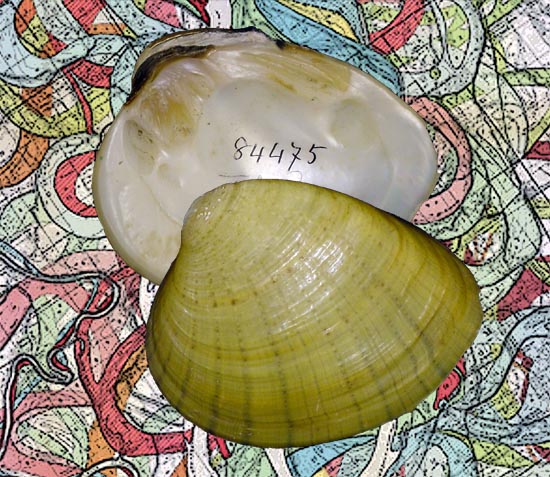 USNM 84475. Cincinnati, Ohio; T.G. Lea! (type of Unio securis Lea, 1829).
Ellipsaria is the namesake of the newsletter of the Freshwater Mollusk Conservation Society. (Apropos of nothing, it is exciting that the back issues of Ellipsaria and Walkerana are available on the Society's web site.)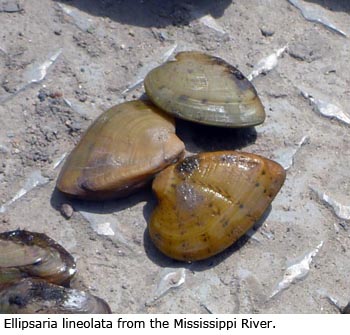 Although regarded as a monotypic genus, Ellipsaria tends to land near Truncilla in phylogenetic studies (Campbell et al., 2005; Zanatta & Murphy, 2006). This is perhaps not too surprising. According to Ortmann (1912), the two genera differ in the size of their glochidia. While the larvae of Ellipsaria are "very large," those of Truncilla are "extremely small." Otherwise, characters of their soft-anatomy are similar.
We ran into a few "butterflies" while sampling on the Mississippi River earlier this summer. Though not Federally listed in the United States, E. lineolata is protected at the state level in Wisconsin, Minnesota, and Iowa in the Upper Midwest.
Phylum Mollusca
Class Bivalvia
Subclass Palaeoheterodonta
Order Unionoida
Family UNIONIDAE Rafinesque, 1820
Subfamily AMBLEMINAE Rafinesque, 1820
Tribe LAMPSILINI von Ihering, 1901

Genus Ellipsaria Rafinesque, 1820
Species Ellipsaria lineolata (Rafinesque, 1820)
To find out more about Ellipsaria, check out: