Page last updated
2 April 2014
Mussel of the Month
The April 2014 Mussel of the Month is Utterbackia imbecillis. Utterbackia is a genus of seven species found in eastern North America.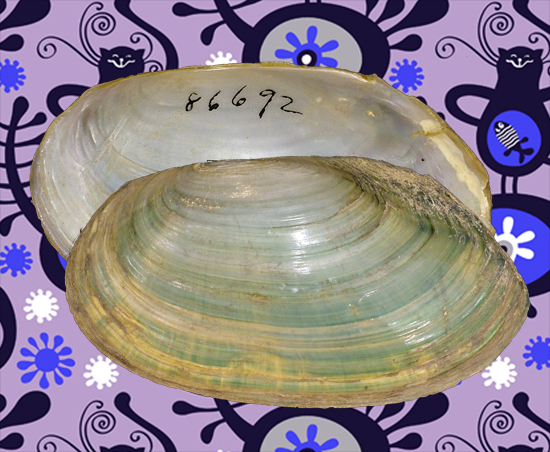 USNM 86692. Matamoras, Mexico (type of Anodonta henryana Lea, 1857).
Utterbackia is an interesting mussel for a number of reasons — both with regard to its reproductive biology and the taxonomy of eastern North American species formerly (or currently) classified in the genus Anodonta. Those would be interesting angles from which to wax malacological, but instead we are going to talk about our research on Mexican freshwater mussels.
Over Spring Break last month, DLG, KSC, and three UWSP undergraduate collaborators — Charlie Jordan, Caitlin Luebke, and Rachel Sommer — traveled to the Smithsonian National Museum of Natural History in Washington DC. Our objective was to continue the work we started earlier this year on the Bereza collection. A substantial portion of this collection of freshwater mussels is an amazing diversity of specimens from three Mexican states. One of the specimen records that caught our attention was a specimen of Utterbackia imbecillis from the Rio Papaloapan. Previously, we had only known U. imbecillis from as far south as the Mexican tributaries of the Rio Grande. We anticipate that when we get all the data sorted out, we will have lots of new and interesting specimen records to report. So, watch this space!
Phylum Mollusca
Class Bivalvia
Subclass Palaeoheterodonta
Order Unionoida
Family UNIONIDAE Rafinesque, 1820
Subfamily UNIONINAE s.s.
Tribe ANODONTINI Rafinesque, 1820

Genus Utterbackia F.C. Baker, 1927
Species Utterbackia imbecillis (Say, 1829)
[+ Anodonta henryana Lea, 1857]
To find out more about Utterbackia and Mexican freshwater mussels, check out:
Frierson, L.S. 1927. A Classification and Annotated Check List of the North American Naiades. Baylor University Press, Waco, Texas. 111 pp.
Haas, F. 1969. Superfamilia Unionacea. Das Tierreich (Berlin) 88: 663 pp.