Page last updated
3 February 2014
Mussel of the Month
The February 2014 Mussel of the Month is Sphenonaias liebmanni. Sphenonaias is a genus of seven species that is found from the western Gulf Coastal Plain of Texas south to Nicaragua.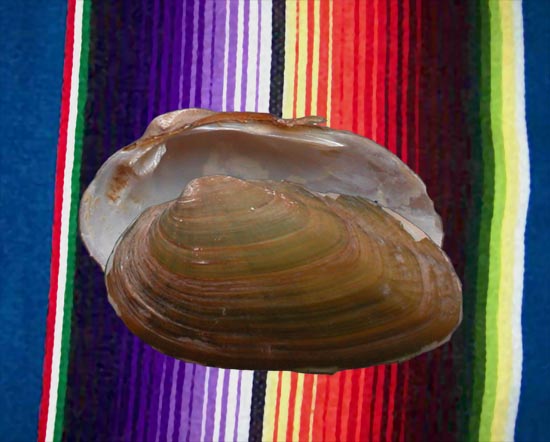 FMNH 11645. Rio Paploapan, El Hule, Veracruz, Mexico. S.E. Meek! 22 April 1903.
Traditionally, we have chosen Central American genera for the Mussel of the Month when we are in a rush to get something posted. If we choose animals about which little is known, then we have an excuse to write less. Our apologies if we have pulled back the curtain too much for you, but check out previous entries on Psoronaias, Barynaias, Micronaias, Nephronaias, Popenaias, Arotonaias, or Friersonia, and you'll see what we mean.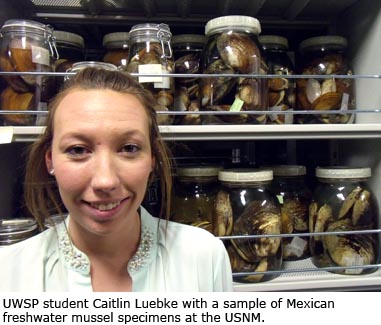 This month we have chosen Sphenonaias liebmanni from Mexico as a segue to talking about our recent collections visit to the Smithsonian National Museum of Natural History (USNM) in Washington DC. UWSP undergraduate Caitlin Luebke joined us* at the Museum Support Center to sort through what turned out to be an excellent collection of freshwater mussels from Mexico. Caitlin's work was funded by the Smithsonian through the efforts of our friend Dr. Robert Hershler, and this project continues the research she started last spring on the Daniel Bereza Collection.
We were amazed and delighted to work with such a magnificent haul of Mexican mussels. We look forward to returning to Washington during Spring Break to continue our taxonomic exploration of the poorly understood Central American mussel fauna.
* Actually, KSC was snowbound and missed the whole adventure.
Phylum Mollusca
Class Bivalvia
Subclass Palaeoheterodonta
Order Unionoida
Family UNIONIDAE Rafinesque, 1820
Subfamily AMBLEMINAE Rafinesque, 1820
Tribe PLEUROBEMINI Hannibal, 1912

Genus Sphenonaias Crosse & Fischer, 1894
Species Sphenonaias liebmanni (Philippi, 1847)
To find out more about Sphenonaias and Central American freshwater mussels, check out:
Crosse, H. & P. Fischer. 1894. Études sur les mollusques terrestres et fluviatiles du Mexique et du Guatemala. Mission Scientifique au Mexique et dans l'Amerique Central, Recherches Zoologiques 2(15): 489-576.
Frierson, L.S. 1927. A Classification and Annotated Check List of the North American Naiades. Baylor University Press, Waco, Texas. 111 pp.
Haas, F. 1969. Superfamilia Unionacea. Das Tierreich (Berlin) 88: 663 pp.
von Martens, E. 1900. Land and freshwater Mollusca. Biologia Centrali-Americana. 675 pp.