Page last updated
15 November 2014
Mussel of the Month
The November 2014 Mussel of the Month is Cyrtonaias tampicoensis. Cyrtonaias is genus of six species extending from southern Texas to Guatemala and Honduras.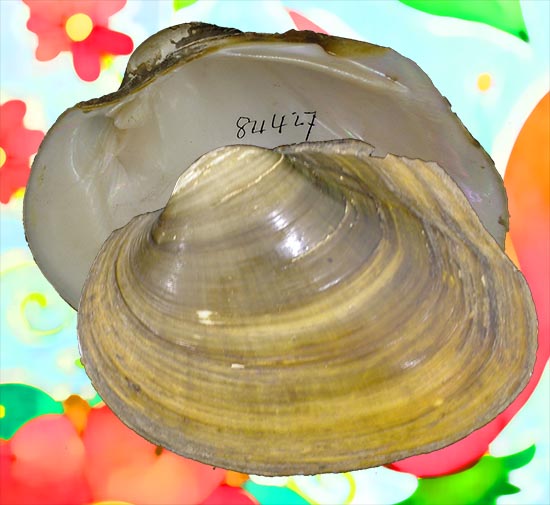 USNM 84427. Matamoras, Mexico (type of Unio berlandierii Lea 1857)
Cyrtonaias is one of several genera of Central American freshwater mussels. It is distinguished from many of the mussels from that region in that its clearly lampsiline marsupial morphology allows it to be unabiguously classified all the way down to the tribe level. That is something.
But that isn't really what we want to talk about this month. With KSC away on a sampling adventure to the wilds of Brazil, DLG has taken this opportunity to update the online versions of the MUSSEL Project Database. It has been 15 months or so since the last update, and our synthesis has accumulated several changes. These include new specimen records from various museum visits, specimen identification updates (thanks especially to Karlo Nagel!), and a thoroughly revised and updated classification. Since the summer of 2013, we have been working to get our data into shape for inclusion in the ITIS web site database. The web version of the MUSSELpdb now reflects those changes as do the static (yet always changing) Unionoida cum Grano Salis pages.
Phylum Mollusca
Class Bivalvia
Subclass Palaeoheterodonta
Order Unionoida
Family UNIONIDAE Rafinesque, 1820
Subfamily AMBLEMINAE Rafinesque, 1820
Tribe LAMPSILINI Ihering, 1901
Genus Cyrtonaias Crosse & Fischer, 1894
Species Cyrtonaias tampicoensis (Lea, 1838)
To find out more about Cyrtonaias and the freshwater mussels of Central America, check out:
Crosse, H. & P. Fischer. 1894. Études sur les mollusques terrestres et fluviatiles du Mexique et du Guatemala. Mission Scientifique au Mexique et dans l'Amerique Central, Recherches Zoologiques 2(15): 489-576.
Frierson, L.S. 1927. A Classification and Annotated Check List of the North American Naiades. Baylor University Press, Waco, Texas. 111 pp.
Haas, F. 1969. Superfamilia Unionacea. Das Tierreich (Berlin) 88: 663 pp.
von Martens, E. 1900. Land and freshwater Mollusca. Biologia Centrali-Americana. 675 pp.