Page last updated
2 June 2015
Mussel of the Month
The June 2015 Mussel of the Month is Grandidieria burtoni. Grandidieria is a monotypic genus endemic to Lake Tanganyika in Central Africa.

MNHN. Lake Tanganyika (type of G. cyrenopsis Bourguignat, 1885)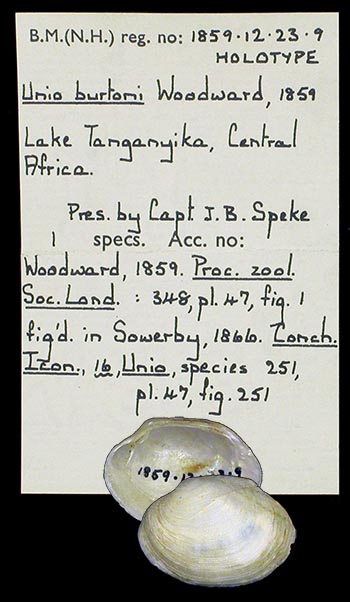 Grandidieria burtoni is such an interesting little African mussel that we are frankly surprised it as taken us so long to give it a spot as the Mussel of the Month. This unionid first came to our attention during DLG's dissertation work to investigate the phylogeny of freshwater mussel families. Anatomically, these bivalves belong to the family Unionidae — they have pseudocardinal and lateral hinge teeth, a supra-anal aperature, and small labial palps (Bloomer, 1933). As importantly, G. burtoni lacks the diagnostic characters of the Iridinidae (the other family found in Lake Tanganyika), such as a deep ligamental sinus, large pedal protractor scars, etc. However, G. burtoni broods its glochidia (a unionid trait) in its inner demibranchs (an iridinid trait) (Graf, 2000; Graf & Cummings, 2006). We still haven't sorted that out.
Our affection for Grandidieria burtoni is also related to our long-time admiration of its name-sake, the polyglot explorer Richard Francis Burton. Back in 2004, during our collections work in London, we visited Burton's tomb, and we also had the opportunity to examine the type specimen collected by Burton and John Hanning Speke on their trip to Lake Tanganyika.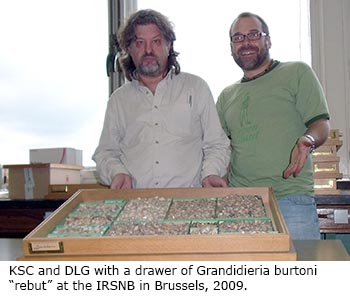 Another feature that distinguishes Grandidieria burtoni from other African mussels is that it is so well represented in malacology collections. A few years back, we published a study of African freshwater mussel biogeography based on museum specimens (Graf & Cummings, 2011). Despite the fact that G. burtoni is endemic to Lake Tanganyika, it is the 2nd most common species in collections (486 lots) — behind only Coelatura aegyptiaca (578) and ahead of the much more widespread Etheria elliptica (454). Despite the observation that there are 76 other Afrotropical species of freshwater mussels, these three species account for more than 25% of all the museum lots. This may seem paradoxical given the relatively small area of occurrence of G. burtoni. However, it turns out that the drawers and drawers of large lots of Grandidieria are largely flotsam ("rebut"). Tanganyika is (relatively) well-studied, and G. burtoni shells apparently wash up in piles.
Recently, our work on the biogeography of the freshwater mussels (Graf & Cummings, 2011) was added to the Global Freshwater Biodiversity Atlas. That site has interactive maps showing the patterns of species richness in Palearctic and Afrotropical Africa as well as Madagascar. We are grateful to Pablo Tedesco for inviting our submission.
Phylum Mollusca
Class Bivalvia
Subclass Palaeoheterodonta
Order Unionoida
Family UNIONIDAE Rafinesque, 1820
Subfamily Parryesiinae Henderson, 1935
Tribe Coelaturini Modell, 1942

Genus GrandidieriaBourguignat, 1885

Species Grandidieria burtoni (Woodward, 1859)
To find out more about Grandidieria and the biogeography of Afrotropical freshwater mussels, check out:
Bloomer, H.H. 1933. Notes on the anatomy of some African naiades — Part II. Proceedings of the Malacological Society of London 20: 237-241.
Graf, D.L. 2000. The Etherioidea revisited: a phylogenetic analysis of hyriid relationships (Mollusca: Bivalvia: Paleoheterodonta: Unionoida). Occasional Papers of the University of Michigan Museum of Zoology (729): 1-21.
Graf, D.L. & K.S. Cummings. 2006. Palaeoheterodont Diversity (Mollusca: Trigonioida + Unionoida): what we know and what we wish we knew about freshwater mussel evolution. Zoological Journal of the Linnean Society 148: 343-394.
Graf, D.L. & K.S. Cummings. 2011. Freshwater mussel (Mollusca: Bivalvia: Unionoida) richness and endemism in the ecoregions of Africa and Madagascar based on comprehensive museum sampling. Hydrobiologia 678: 17-36.