Page last updated
4 April 2016
Mussel of the Month
The April 2016 Mussel of the Month is Reticulatus reticulatus. Reticulatus is a genus of two species from Central America.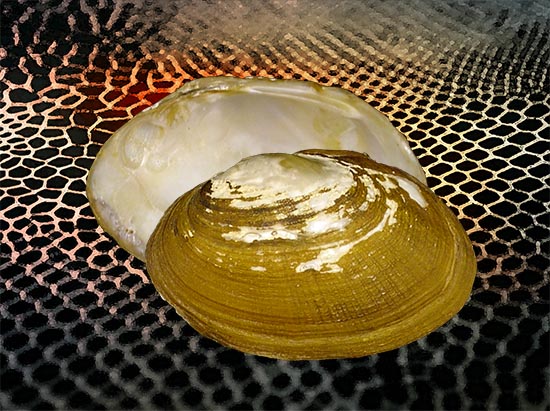 USNM 152964. Patuca River, Capunta, Honduras. (type)
It is the home-stretch toward the end of the semester, and we need to keep the Mussel of the Month short. Regular readers of this monthly feature will know that in situations like this we rely on Central American species — the less we know, the less there is to write! The last time we offered up a data-poor Mesoamerican species was last November with Nephritica.
Our knowledge of Reticulatus reticulatus is limited to the possible fact of its existence. Simpson (1900) described it as a species of Nephronaias based on a single specimen from Honduras (the one in the picture above). Frierson (1927) sequestered the species into its own subgenus, Nephronaias (Reticulatus), and then other authors occasionally mentioned the species (Thiele, 1934; Haas, 1969). We (Graf & Cummings, 2007) elevated Reticulatus to a full genus. R. reticulatus is classified in the Tribe Pleurobemini based on tradition since that is where Nephronaias still resides, be it would not surprise us in the least to see it move following more/some/any study.
In addition to the type, our extensive tour of collections has only turned up 4 more lots in three North American collections.
Phylum Mollusca
Class Bivalvia
Subclass Palaeoheterodonta
Order Unionoida
Family UNIONIDAE Rafinesque, 1820
Subfamily AMBLEMINAE Rafinesque, 1820
Tribe PLEUROBEMINI Hannibal, 1912

Genus Reticulatus Frierson, 1927

Species Reticulatus reticulatus (Simpson, 1900)
To find out more about Reticulatus and Central American freshwater mussels: