Page last updated
7 August 2020
Mussel of the Month
The August 2020 Mussel of the Month is Popenaias berezai. Popenaias is a genus of four or five species from Central America, with a single species extending north to the USA.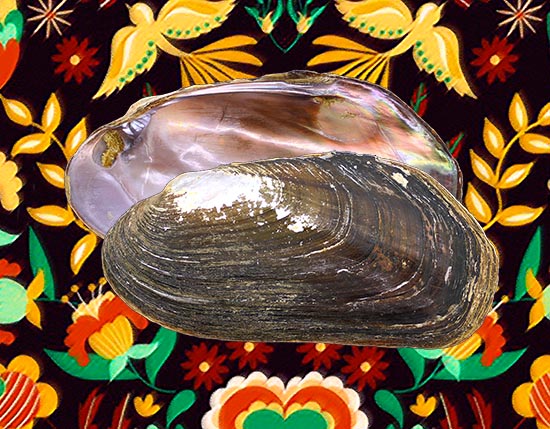 CNMO 8037 (ex. INHS 90397.5). Río Valles (Río Pánuco Basin),
Estación Micos, San Luis Potosí, México (holotype)
The last time we looked at Popenaias was 13 years ago this month, but things are changing!
Back in when we made our global checklist (Graf & Cummings, 2007), Popenaias was composed of 3 species: P. popeii, P. metallica, and P. tehuantepecensis. Our interest in the genus Popenaias in North America derived from a recent proposal by the U.S. Fish & Wildlife Service to list the Texas Hornshell, Popenaias popeii, as a federally endangered species. What was unknown at the time of the proposed listing was the taxonomic status of those species referred to as P. popeii in the Rio Pánuco Basin, a Gulf coastal drainage in central México.
KSC and this collaborators conducted fieldwork in the Pánuco basin in México 2017 and 2018, and genetic and morphological analysis revealed that the species previously thought to be P. popeii in central Mexico was a new species, P. bereazi. We also discovered that another species of Popenaias exists in the Pánuco Basin: P. semirasa, which is endemic to the Rio Gallinas above Tamul Falls. P. popeii is now recognized as a Rio Grande endemic and since its status is imperiled, it was formally listed as Endangered by the U.S. Fish & Wildlife Service in late 2018.
"Popenaias" tehuantepecensis requires further scrutiny. It was described in the genus Unio and has bounced around from Sphenonaias and Nephronaias to Popenaias. There are only seven lots of specimens of "Popenaias" tehuantepecensis that we know of — all from Pacific coast drainages in Central America. Given its disjunct distribution and the limited number of specimens in museum collections, the taxonomic validity (including its placement in Popenaias) is uncertain. An examination of the syntypes and other specimens from the Pacifc coast of Central America strongly suggest it is synonymous with Nephronaias rowellii.
Phylum Mollusca
Class Bivalvia
Subclass Palaeoheterodonta
Order Unionoida
Superfamily UNIONOIDEA Rafinesque, 1820
Family UNIONIDAE s.s
Subfamily AMBLEMINAE Rafinesque, 1820
Tribe POPENAIADINI Heard & Guckert, 1970
Genus Popenaias Frierson, 1927

Species Popenaias berezai Inoue, Cummings, Tiemann,
Miller, Johnson, Smith & Randklev, 2020
To find out more about Popenaias and the tale of the listing of P. popeii, check out:
Graf, D.L. & K.S. Cummings. 2007. Review of the systematics and global diversity of freshwater mussel species (Bivalvia: Unionoida). Journal of Molluscan Studies 73: 291-314.
Inoue, K., B.K. Lang, and D.J. Berg. 2013. Development and characterization of 20 polymorphic microsatellite markers for the Texas hornshell, Popenaias popeii (Bivalvia: Unionidae), through next-generation sequencing. Conservation Genetics Resources 5(1):195-198.
Inoue, K., K.S. Cummings, J.S. Tiemann, T.D. Miller, N. Johnson, C.H. Smith, & C.R. Randklev. 2020. A new species of freshwater mussel in the genus Popenaias Frierson, 1927, from the Gulf coastal rivers of central Mexico (Bivalvia: Unionida: Unionidae) with comments on the genus. Zootaxa 4816(4): 457-490.
Karatayev, A.Y., L.E. Burlakova, T.D. Miller, and M.F. Perrelli. 2018. Reconstructing historical range and population size of an endangered mollusc: long-term decline of Popenaias popeii in the Rio Grande, Texas. Hydrobiologia 810(1): 333-349.
Levine, T.D., B.K. Lang, and D.J. Berg. 2012. Physiological and ecological hosts of Popenaias popeii (Bivalvia: Unionidae): laboratory studies identify more hosts than field studies. Freshwater Biology 57(9): 1854-1864.
Pilsbry, H.A. 1910. Unionidae of the Panuco River system, Mexico. Proceedings of the Academy of Natural Sciences of Philadelphia 61(3): 532-539 + 3 plates.
Smith, D.G., B.K. Lang, and M.E. Gordon. 2003. Gametogenetic cycle, reproductive anatomy, and larval morphology of Popenaias popeii (Unionoida) from the Black River, New Mexico. Southwestern Naturalist 48(3): 333-340.
USFWS (US Fish and Wildlife Service). 2018. Endangered and threatened wildlife and plants; endangered species status for Texas hornshell. Federal Register, 83(28): 5720–5735.