Page last updated
5 January 2021
Mussel of the Month
The January 2021 Mussel of the Month is Solenaia emarginata. Solenaia is a genus of three species found in East Asia.
We already tried, back in February 2008, to choose a species of Solenaia for the Mussel of the Month. But, Balwantia soleniformis got revised to a different genus (a different tribe!). In fact, the old Solenaia (Graf & Cummings, 2007; Zieritz et al., 2018) has been broken into at least for genera: Solenaia, Parvasolenaia, Koreosolenaia, and Balwantia (Huang et al., 2019; Lopes-Lima et al., 2020).
This time we will make sure we pick a shell that will stick in Solenaia: the type specimen of the type species, Solenaia emarginata.
Since we last dealt with Solenaia sensu lato, S. khwaenoiensis has been lumped with S. emarginata, S. carinata has been resurrected from synonymy with from S. iridinea, and two additional species have been described. The prevailing name in the literature for S. iridinea (Heude, 1874) is S. oleivora (Heude, 1877), but they have been treated as synonyms (Haas, 1969; He & Zhuang, 2013), and S. iridinea has priority.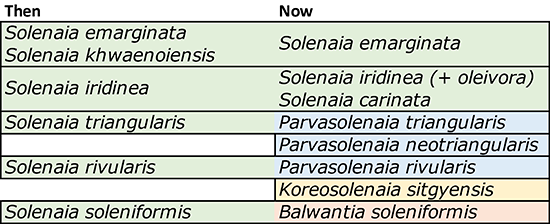 Phylum Mollusca
Class Bivalvia
Subclass Palaeoheterodonta
Order Unionoida
Superfamily UNIONOIDEA Rafinesque, 1820
Family UNIONIDAE s.s.
Subfamily GONIDEINAE Ortmann, 1916
Tribe GONIDEINI s.s.
Genus Solenaia Conrad, 1869

Species Solenaia emarginata (Lea, 1860)
To find out more about Solenaia and the classification of East Asian freshwater mussels, check out:
Graf, D.L. & K.S. Cummings. 2007. Review of the systematics and global diversity of freshwater mussel species (Bivalvia: Unionoida). Journal of Molluscan Studies 73: 291-314.
Haas, F. 1969. Superfamilia Unionacea. Das Tierreich, Leif. 88. Walter de Gruyter and Co., Berlin. 663 pp.
He, J. & Zhuang, Z. 2013. The Freshwater Bivalves of China. ConchBooks, Harxheim, Germany. 198 pp.
Huang, X.-C., J.-H. Su, J.-X. Ouyang, S. Ouyang, C.-H. Zhou & X.-P. Wu. 2019.Towards a global phylogeny of freshwater mussels (Bivalivia: Unionida): Species delimitation of Chinese taxa, mitochondrial phylogenomics, and diversification patterns. Molecular Phylogenetics and Evolution 130: 45-59.
Lopes-Lima, M., A. Hattori, T. Kondo, J.H. Lee, S.K. Kim et al. 2020. Freshwater mussels (Bivalvia: Unionidae) from the rising sun (Far East Asia): phylogeny, systematics, and distribution. Molecular Phylogenetics and Evolution 146: 1-27.
Zieritz, A., A.E. Bogan, E. Froufe, O. Klishko, T. Kondo et al. 2018. Diversity, biogeography and conservation of freshwater mussels (Bivalvia: Unionida) in East and Southeast Asia. Hydrobiologia 810(1): 29-44.