Page last updated
4 February 2021
Mussel of the Month
The February 2021 Mussel of the Month is Mutela hargeri. Mutela is a genus of 15 species endemic to Africa.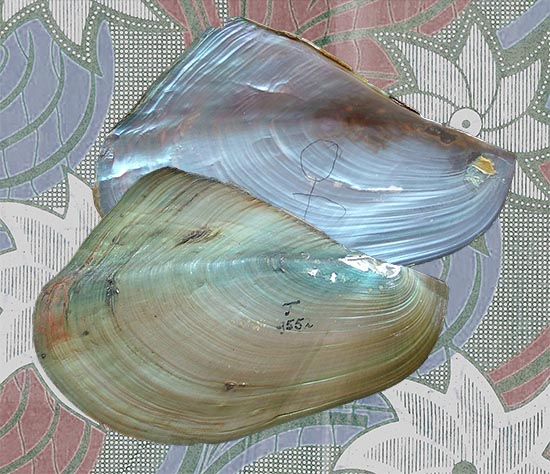 SMF 9552. Nordende des Bangweolo See, bei Nsombo, N. Rhodesien
[North end of Lake Bangweulu, near Nsombo, Zambia]
(type of Mutela hargeri schomburgki Haas, 1936 ).
We have highlighted Afrotropical the genus Mutela before, but it has been a while, and it is time to revisit an interesting genus again.
All the recent literature (i.e., Mandahl-Barth, 1988; Daget, 1998) reported this month's mussel, Mutela hargeri, from Lakes Mweru and Bangweulu and the connecting Luapula River in northwestern Zambia and southeastern DRC. From our multiple mussel sampling expeditions in Zambia (2005, 2007, 2008, and 2009), we have also found it in Lake Mweru-Wantipa as well as the far upper Congo basin in the Chambeshi River.
In addition to all the specimens that are available in the collections we have visited, you can see representatives of the Mutela hargeri we have sampled in the MUSSEL Project Database. As is the case for all of the species for which we have specimen records, we provide a map of all georeferenced specimens as well. It is the next best thing to going to Africa to collect and a major research collection!
Phylum Mollusca
Class Bivalvia
Subclass Palaeoheterodonta
Order Unionoida
Superfamily ETHERIOIDEA Deshayes, 1830
Family IRIDINIDAE Swainson, 1840
Subfamily IRIDININAE s.s.
Genus Mutela Scopoli, 1777

Species Mutela hargeri E.A. Smith, 1908
[+ Mutela hargeri schomburgki Haas, 1939]
To find out more about Mutela and the classification of African freshwater mussels, check out: