Page last updated
3 September 2021
Mussel of the Month
The September 2021 Mussel of the Month is Aspatharia chaiziana. Aspatharia is a genus of 11 species from Sub-Saharan Africa, as well as the Nile.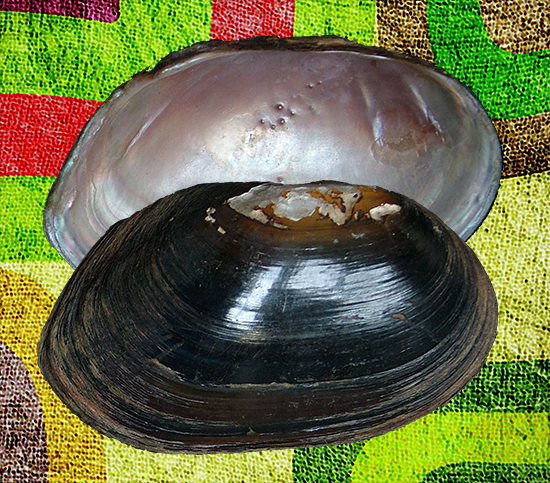 MNHN. Senegal (type)
We previously spotlighted this genus back in February 2004 with Aspatharia rugifera. This month, we are looking at Aspatharia chaiziana. Looking at the previous specimen from Cameroon and this one from Senegal, you might be struck by how different the shells look. There is a wide range of morphological variation in Aspatharia shells, and these species exemplify the conchological disparity.
If your first guess looking at this Mussel of the Month was that it was Chambardia rubens, you probably weren't alone. Haas (1969) and even Mandahl-Barth (1968) considered C. rubens and A. chaiziana to be synonyms. However, the two species are pretty easy to distinguish based on the straighter ventral margin and longer hinge (i.e., the distance from the umbo to the ligamental fossette) in Aspatharia chaiziana. C. rubens and A. chaiziana are broadly sympatric in the Nile and West Africa (Mandahl-Barth, 1988; Daget, 1998; Graf & Cummings, 2021), and they have been frequently misidentified in collections.
Phylum Mollusca
Class Bivalvia
Subclass Palaeoheterodonta
Order Unionoida
Superfamily ETHERIOIDEA Deshayes, 1830
Family IRIDINIDAE Swainson, 1840
Subfamily ASPATHARIINAE Modell, 1942
Genus Aspatharia Bourguignat, 1886
Species Aspatharia chaiziana (Rang, 1835)
To find out more about Aspatharia and Afrotropical freshwater mussels, check out:
Daget, J. 1998. Catalogue Raisonné des Mollusques Bivalves d'eau Douce Africans. Backhuys Publishers, Leiden, The Netherlands. 329 pp.
Graf, D.L. & K.S. Cummings. 2021. A 'big data' approach to global freshwater mussel diversity (Bivalvia: Unionoida), with an updated checklist of genera and species. Journal of Molluscan Studies 87(1): 1-36.
Haas, F. 1969. Superfamilia Unionacea. Das Tierreich, Leif. 88. Walter de Gruyter and Co., Berlin. 663 pp.
Mandahl-Barth, G. 1968. Class Bivalvia or Lamellibranchia. pp. 51-58 in Jean-Jacques Symoens (ed.) Freshwater Molluscs Hydrobiological Survey of the Lake Bangweulu Luapula River Basin, Cercle Hydrobiologique de Bruxelles, Brussels, Belgium 12: 1-68.
Mandahl-Barth, G. 1988. Studies on African Freshwater Bivalves. Danish Bilharziasis Laboratory, Charlottenlund, Denmark. 161 pp.