Page last updated
4 October 2021
Mussel of the Month
The October 2021 Mussel of the Month is Alasmidonta marginata. Alasmidonta is a genus of 12 species found in eastern North America.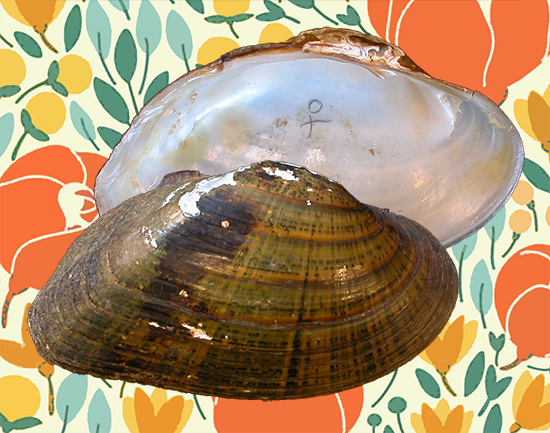 UMMZ 209183. Red Cedar River, Chetek, Wisconsin, USA (type of A. marginata variabilis F.C. Baker)
We don't have any special reason for choosing Alasmidonta marginata this month, except that it has been almost 18 years since we last looked at Alasmidonta, and we have a pic of this nice looking F.C. Baker type specimen from Wisconsin.
Alasmidonta marginata is one of those species names that has been in use since it was described way back in the early 19th century. For as long as we have been naming freshwater mussels (since even before Linnaeus in 1758), and for how many names we have already come up with (5000+Recent nominal species and more than 600 nominal genera), it turns out there are still mussels that need new names.
To keep up with the current naming mania, we will track the current tally of valid species each month. To get the data from the past leading up to this month, we started with our previous global checklist of 840 species (Graf & Cummings, 2007). Then we retro-queried our periodic back-ups of the MUSSEL Project Database to get the number of valid species at various time horizons. Our current tally of Recent valid species is 980. That is an increase of 22 species since just a year ago when our more recent checklist (Graf & Cummings, 2021) went to press!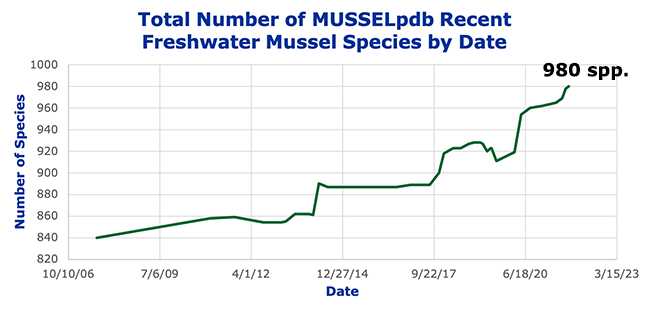 Phylum Mollusca
Class Bivalvia
Subclass Palaeoheterodonta
Order Unionoida
Superfamily UNIONOIDEA Rafinesque, 1820
Family UNIONIDAE s.s.
Subfamily UNIONINAE s.s.
Tribe ANODONTINI Rafinesque, 1820
Subtribe ALASMIDONTINA Rafinesque, 1820
Genus Alasmidonta Say, 1818
Species Alasmidonta marginata Say, 1818
To find out more about Alasmidonta and freshwater mussel species and genus diversity, check out:
Graf, D.L. & K.S. Cummings. 2007. Review of the systematics and global diversity of freshwater mussel species (Bivalvia: Unionoida). Journal of Molluscan Studies 73: 291-314.
Graf, D.L. & K.S. Cummings. 2021. A 'big data' approach to global freshwater mussel diversity (Bivalvia: Unionoida), with an updated checklist of genera and species. Journal of Molluscan Studies 87(1): 1-36.