Page last updated
8 April 2023
Mussel of the Month
The April 2023 Mussel of the Month is Scabiellus songkramensis. Scabiellus is a monotypic genus endemic to the Mekong Basin in Southeast Asia.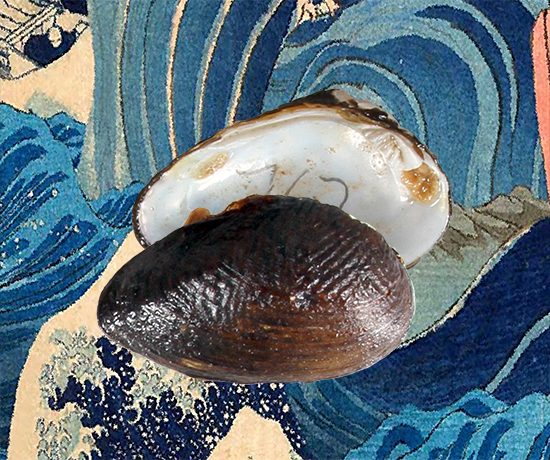 UF 507775. Pla Hang at Rt 222 bridge, Thailand.
This month's mussel was originally described in the genus Scabies, but sufficient molecular phylogenetic sampling has consistently recovered Scabiellus songkramensis as a distinct branch (Pfeiffer et al., 2018; Bolotov et al., 2022). So, it has been reclassified in a distinct genus.
The phylogenetic relationships of Scabiellus songkramensis are summarized on the Scabiellus cladomics page.
Phylum Mollusca
Class Bivalvia
Subclass Palaeoheterodonta
Order Unionoida
Superfamily UNIONOIDEA Rafinesque, 1820
Family UNIONIDAE Rafinesque, 1820
Subfamily PARREYSIINAE Henderson, 1935
Tribe INDOCHINELLINI Bolotov, Pfeiffer, Vikhrev, & Konopleva, 2018

Genus Scabiellus Bolotov, Konopleva, Vikhrev,
Gofarov, Lopes-Lima, Bogan, Lunn, Chan, Win, Aksenova,
Tomilova, Tanmuangpak, Tumpeesuwan & Kondakov, 2020
Species Scabiellus songkramensis (Kongim & Panha in Kongim et al., 2015)
To find out more about the phylogenetics and classification of Scabiellus, check out:
Bolotov, I.N., E.S. Konopleva, N. Chan, Z. Lunn, T. Win et al. 2022. A riverine biodiversity hotspot in northern Myanmar supports three new and narrowly endemic freshwater mussel species. Aquatic Conservation: Marine & Freshwater Ecosystems 32(9): 1490-1508.
Graf, D.L. & K.S. Cummings. 2021. A 'big data' approach to global freshwater mussel diversity (Bivalvia: Unionoida), with an updated checklist of genera and species. Journal of Molluscan Studies 87(1). eyaa034 (36 pp.).
Pfeiffer, J.M., D.L. Graf, K.S. Cummings & L.M. Page. 2018. Molecular phylogeny and taxonomic revision of two enigmatic freshwater mussel genera (Bivalvia: Unionidae incertae sedis: Harmandia and Unionetta) reveals a diverse clade of southeast Asia Parreysiinae. Journal of Molluscan Studies 84(4): 404-416.