Page last updated
Sun 01 Oct 2023
The Freshwater Mussels (Unionoida) of the World (and other less consequential bivalves)
FM(U)otW(aolcb) is the web version of the MUSSEL Project Database. Follow the links to browse the data or use the custom Google search field. Either way, you win!
This page documents data for Ortmann (1909), such as genera and species attributed to that publication (including known misspellings, misidentifications, and other unavailable names) as well as taxonomic opinions, if available. Taxonomic opinions refer to uses of genera and species as valid and invalid in that work.
Search the database pages:
---
Publication information
Ortmann, A.E. 1909. A preliminary list of the Unionidae of western Pennsylvania, with new localities for species from eastern Pennsylvania. Annals of the Carnegie Museum 5: 178-210.
Click here for online access.
Attributed Genus Names
Rotundaria Agassiz, 1852
'Rafinesque' of Authors.
Agassiz, 1852, Arch. Naturg. 18(1): 48.
Simpson, 1900, Proc. U.S. Nat. Mus. 22: 765.
Ortmann, 1909, Ann. Carnegie Mus. 5: 201.
Ortmann, 1910, Nautilus 23(11): 140.
Ortmann, 1912, Ann. Carnegie Mus. 8: 257.
Simpson, 1914, Descr. Cat. Naiades: 811.
Utterback, 1915, Amer. Midl. Nat. 4(4): 149.
Ortmann, 1918, Proc. Amer. Phil. Soc. 57(6): 543.
Haas, 1929, Senckenbergiana 11: 333.
Haas, 1930, Senckenbergiana 12(6): 319.
(reference to Rotundaria Rafinesque, 1820)
Type species: Obliquaria (Rotundaria) tuberculata Rafinesque, 1820 () = Cyclonaias tuberculata
Pterosygna Simpson, 1900
'Rafinesque' of Authors.
Simpson, 1900, Proc. U.S. Nat. Mus. 22: 665.
Ortmann, 1909, Ann. Carnegie Mus. 5: 196.
Simpson, 1914, Descr. Cat. Naiades: 490.
Ortmann, 1914, Nautilus 28(4): 43.
Walker, 1918, Occ. Pap. Mus. Zool. Univ. Mich. (49): 2.
F.C. Baker, 1928, Bull. Wisconsin Geol. Nat. Hist. Survey 70(2): 147.
Haas, 1930, Senckenbergiana 12(6): 326.
(error for Pterosyna Rafinesque, 1831)
Amygdalonajas Ortmann, 1909
Ortmann, 1909, Ann. Carnegie Mus. 5: 192.
Ortmann, 1912, Ann. Carnegie Mus. 8: 327.
Ortmann, 1914, Nautilus 28(6): 67.
(error for Amygdalonaias Fischer & Crosse, 1894)
Attributed Species Names
Quadrula lachrymosa Swainson, 1840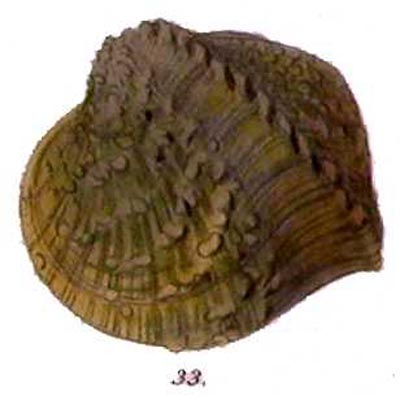 'Lea' of Authors.
Swainson, 1840, Treat. Malacol.: 378.
Hanley, 1843, Illustr. Descr. Cat. Rec. Bivalve Shells: 177.
Conrad, 1853, Proc. Acad. Nat. Sci. 6: 256.
Adams & Adams, 1857, Gen. Rec. Moll. 2(31-32): 497.
Reeve, 1864, Conch. Icon. 16: pl. 9, sp. 33.
Call, 1895, Trans. Acad. Sci. St. Louis 7: 21.
F.C. Baker, 1898, Bull. Chicago Acad. Sci. 3(1): 83, pl. 25, fig. 1; pl. 12, fig. 2.
Simpson, 1900, Proc. U.S. Nat. Mus. 22: 776.
Call, 1900, Ind. Dept. Geol. Nat. Res. (1899): 489.
Ortmann, 1909, Nautilus 22(10): 100.
Ortmann, 1909, Ann. Carnegie Mus. 5: 199.
Ortmann, 1910, Nautilus 23(11): 140.
Ortmann, 1910, Nautilus 23: 116.
Ortmann, 1912, Ann. Carnegie Mus. 8: 253.
Simpson, 1914, Descr. Cat. Naiades: 839, 841.
Vanatta, 1915, Proc. Acad. Nat. Sci. 67: 556.
Ortmann & Walker, 1922, Occ. Pap. Mus. Zool. Univ. Mich. (112): 14, 16.
Frierson, 1927, Check List N. Amer. Naiades: 47.
F.C. Baker, 1928, Bull. Wisconsin Geol. Nat. Hist. Survey 70(2): 84.
R.I. Johnson, 1980, Bull. MCZ 149(2): 90.
Vidrine, 1993, Histr. Distr. Freshw. Mussels LA: 53.
Strayer & Jirka, 1997, Pearly Mussels NY (26): 98.
(error for Unio lacrymosus Lea, 1828)
Unio hippopaeus Lea, 1852
'Lea' of Authors.
Lea, 1852, Synopsis Fam. Naiades: 21 [as 'hippopæus'].
Conrad, 1853, Proc. Acad. Nat. Sci. 6: 261 [as 'hippopæus'].
Adams & Adams, 1857, Gen. Rec. Moll. 2(31-32): 497 [as 'hippopæus'].
Reeve, 1864, Conch. Icon. 16: pl. 11, sp. 40 [as 'hippopæus'].
Lea, 1870, Synopsis Fam. Naiades: 31 [as 'hippopæus'].
B.H. Wright, 1888, Check List N. Amer. Unionidae etc.: [3], [as 'hippopæus'].
Simpson, 1900, Proc. U.S. Nat. Mus. 22: 767 [as 'hippopæa'].
Ortmann, 1909, Nautilus 22(10): 101 [as 'Q. hippopæa'].
Ortmann, 1909, Ann. Carnegie Mus. 5: 203 [as 'Quadrula undulata hippopæa'].
Simpson, 1914, Descr. Cat. Naiades: 816 [as 'hippopæa'].
Frierson, 1927, Check List N. Amer. Naiades: 61.
Haas, 1969, Das Tierreich 88: 287.
Clarke, 1973, Malacologia 13(1-2): 35.
Burch, 1975, Freshw. Unio. North Amer.: 165.
Strayer & Jirka, 1997, Pearly Mussels NY (26): 98.
He & Zhuang, 2013, Freshwater Bivalves China: 27.
(error for Unio hippopoeus Lea, 1845)
Quadrula tritogonia Ortmann, 1909
Ortmann, 1909, Nautilus 22(10): 101.
Ortmann, 1909, Ann. Carnegie Mus. 5: 193.
(new name for Unio tuberculatus Barnes, 1823)
Taxonomic Opinions
Page updated: 13:08:31 Sun 01 Oct 2023