Page last updated
2 November 2010
Mussel of the Month
The November 2010 Mussel of the Month is Megalonaias nervosa. Megalonaias is a widespread genus of two species that occurs from the Interior Basin of North American south to Nicaragua.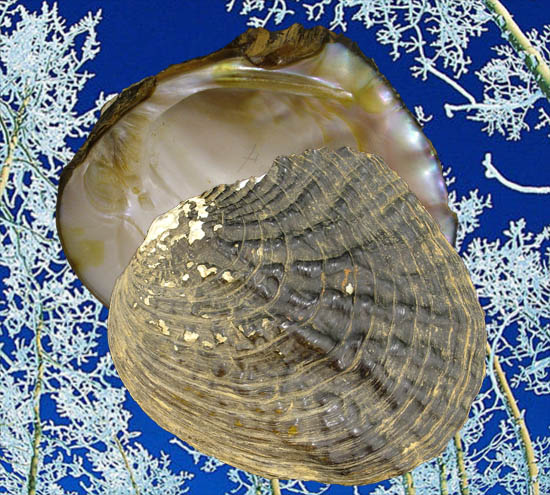 USNM 150554. Coosa River, St. Clair Co., Alabama, US
(holotype Unio trumphans B.H. Wright, 1898)
Megalonaias is worth discussing for a couple of reasons. For one, it is one of the few amblemine genera found widely in both North and Central America. It is interesting to speculate where it arose. In the north, and then spread south? Or, vice versa? We suspect that Megalonaias represents a tropical lineage that has spread north, and this leads to the second reason Megalonaias is interesting.
It was Megalonaias nervosa that refined our understanding of freshwater mussel brooding patterns. With the early ecological observations of freshwater mussels and the efforts to propagte these mussels in full swing aroung the turn of the 20th century, it was determined that different groups of mussels have different reproductive periods. Whereas mussels like Amblema and Elliptio spawn in the spring and brood their larve during the summer, other taxa like Lampsilis and Pyganodon release gametes in the fall and brood their larvae over the winter. The obvious names for these two different life histories was "summer breeders" and "winter breeders," respectively.
Megalonaias nervosa, however, was the exception to this pattern. Based upon its taxonomic affinities, M. nervosa was expected to be a summer breeder, but it was known to be gravid during the fall and winter. What makes Megalonaias different from other winter breeders is the duration that it broods its larvae. Rather than brooding its larvae for several months (a long time) like typical winter breeders, M. nervosa carries its glochidia for only a couple months (a short time), as observed in summer breeders. Thus, the more accurate descriptor for the two broodering periods is short- and long-term brooders. Or, tachytictic and bradytictic, respectively, if you want to get fancy.
The late season, tachytictic brooding period for Megalonaias is what makes us hypothesize a tropical origin for Megalonaias. Perhaps it is adapted to a warmer climate better suited to reproducing late in the year...?
Phylum Mollusca
Class Bivalvia
Subclass Palaeoheterodonta
Order Unionoida
Superfamily UNIONOIDEA Rafinesque, 1820
Family UNIONIDAE s.s
Subfamily AMBLEMINAE Rafinesque, 1820
Tribe Quadrulini von Ihering, 1901

Genus Megalonaias Utterback, 1915

Species Megalonaias nervosa (Rafinesque, 1820)
To find about more about Megalonaias and the brooding patterns of freshwater mussels, check out:
Graf, D.L. 1997. The effect of breeding period on the biogeography of freshwater mussels (Bivalvia: Unionoidea) in the Minnesota region of North America. Occasional Papers on Mollusks 5(73): 393-407.
Graf, DL. & D. Ó Foighil. 2000. The evolution of brooding characters among the freshwater pearly mussels (Bivalvia: Unionoidea) of North America. Journal of Molluscan Studies 66: 157-170.
Heard, W.H. 1998. Brooding patterns in freshwater mussels. Malacological Review, Supplement 7 (Bivalvia): 105-121.