Page last updated
30 April 2012
Mussel of the Month
The May 2012 Mussel of the Month is Lamellidens marginalis. Lamellidens is represented from Afghanistan to Burma and north to Nepal by eleven species.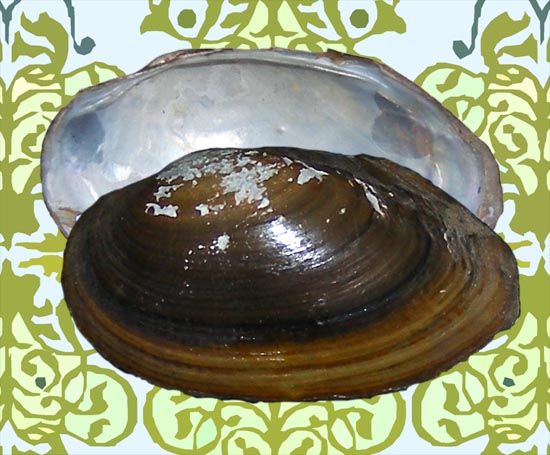 MNHN. "Habite au Bengale, dans les rizières [sic]... La variété [b] vient de l'ile de Ceylon..."
(Lamarck's type).
For many tropical freshwater mussel species, very little known except that they exist. For examples, see previous Mussels of the Month: Unionetta, Ctenodesma, Rectidens, etc. Lamellidens, in contrast, is an important model mussel for physiological research. More than a dozen papers have been published since 2011 that mention "Lamellidens" in the title. Most of those have to do with toxicology and accumulation of metals.
We are more interested in Lamellidens as a member of the Parreysiinae. We recently resolved that subfamily composed of freshwater mussels from Africa and southern Asia (Whelan et al., 2011). As far as we can see today, the Parreysiinae is represented by 4 tribes: Coelaturini (Africa), Oxynaiini (S and SE Asia), Parreysiini (S Asia) and Lamellidentini (S Asia). Lamellidens is the only genus of the last of these, and it represents the most basal member of the clade. Of course, only two species of Lamellidens have been analyzed to-date, and there is certainly more room for systematic studies of southern Asian mussels.
Phylum Mollusca
Class Bivalvia
Subclass Palaeoheterodonta
Order Unionoida
Family UNIONIDAE Rafinesque, 1820
Subfamily PARREYSIINAE Henderson, 1935
Tribe LAMELLIDENTINI Modell, 1942

Genus Lamellidens Simpson, 1900
Species Lamellidens marginalis (Lamarck, 1819)
To find out more about Lamellidens and the Parreysiinae of southern Asia, check out:
Nesemann, H. et al. 2007. Mollusca, Annelida, Crustacea (in part). Aquatic Invertebrates of the Ganga River System, Vol. 1. 263 pp.
Ramakrishna & A. Dey. 2007. Handbook on Indian Freshwater Molluscs. Zoological Survey of India, Kolkata 399 pp.
Subba Rao, N.V. 1989. Handbook freshwater molluscs of India. Zoological Survey of India, Calcutta. 289 pp.
Whelan, N.V., A.J. Geneva & D.L. Graf. 2011. Molecular phylogenetic analysis of tropical freshwater mussels (Mollusca: Bivalvia: Unionoida) resolves the position of Coelatura and supports a monophyletic Unionidae. Molecular Phylogenetics and Evolution 61: 504-514.