Page last updated
4 January 2013
Mussel of the Month
The January 2013 Mussel of the Month is Pegias fabula. Pegias is a monotypic genus endemic to the Cumberland Plateau of North America.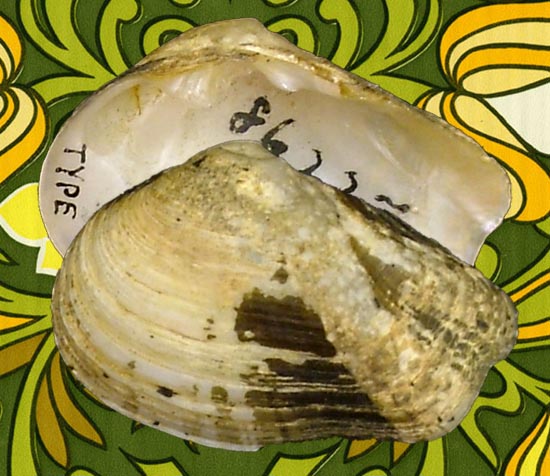 USNM 86227. Stone River, Tennessee (lectotype of Margaritana curreyiana Lea).
Pegias fabula, also known as the littlewing pearlymussel, was historically widespread on the Cumberland Plateau. It was never frequently encountered, presumably due to its small size and habit of prolonged burial (Williams et al., 2008), but it was known from the Cumberland and Tennessee rivers in 5 states. Today, it is only known from four localities in Kentucky and Tennessee (Cummings & Cordeiro, 2012). As a result, P. fabula is listed as endangered by the U.S. Fish and Wildlife Service and critically endangered on the IUCN Red List.
As anyone that follows modern mussel research knows, the case of P. fabula is not an isolated one. According to Williams et al. (1993), of the 300 species of mussels that were once present in the United States and Canada, c. 70% are either extinct (21 species), endangered (77 species), threatened (43 species) or of special concern (72 species). The Fish and Wildlife Service maintains a website listing many of these threatened and endangered species. A variety of factors have contributed to the decline of freshwater mussels in North America, including water pollution, habitat fragmentation and over-exploitation (Haag, 2009).
However, if you follow the modern mussel literature, you will also be aware of the heroic efforts going on to reverse this trend. We have reported on the reintroduction of other endangered freshwater mussels on this site (e.g., Lampsilis, Epioblasma), and we look forward to providing a future update on Pegias fabula.
Phylum Mollusca
Class Bivalvia
Subclass Palaeoheterodonta
Order Unionoida
Family UNIONIDAE Rafinesque, 1820
Subfamily UNIONINAE s.s.
Tribe ANODONTINI Rafinesque, 1820

Genus Pegias Simpson, 1900
Species Pegias fabula (Lea, 1838)
To find out more about Pegias and endangered freshwater mussels, check out:
Cummings, K. & Cordeiro, J. 2012. Pegias fabula. In: IUCN 2012. IUCN Red List of Threatened Species. Version 2012.2.
Haag, W.R. 2009. Past and future patterns of freshwater mussel extinctions in North America during the Holocene. [in] S. Turvey, ed. Holocene Extinctions. Oxford University Press, New York. pp. 107-128.
Williams, J.D., A.E. Bogan & J.T. Garner. 2008. Freshwater Mussels of Alabama and the Mobile Basin in Georgia, Mississippi and Tennessee. University of Alabama Press, Tuscaloosa. 908 pp.
Williams, J.D., M.L. Warren, K.S. Cummings, J.L. Harris & R.J. Neves. 1993. Conservation status of freshwater mussels of the United States and Canada. Fisheries 18(9): 6-22.