We are going to use this month's mussel as an angle to discuss two advances for the MUSSEL Project: 1) the beginning of our 2nd decade of the Mussel of the Month and 2) a new publication on the classification of Asian freshwater mussels.
This month, August 2013, marks the 10 year anniversary of our first Mussel of the Month, Lamproscapha.We look forward to providing this valuable and aesthetically pleasing service for at least another 120 more months. To commemorate this milestone, we have made a poster.
We have chosen Aculamprotula this month in honor of the latest MUSSELp publication, "Re-analysis confirms the polyphyly of Lamprotula Simpson, 1900 (Bivalvia: Unionidae)" by Pfeiffer & Graf in the Journal of Molluscan Studies. The handful of species classified in Aculamprotula were, until recently, placed in Lamprotula. Back in the 1990s, it was discovered that while some species of Lamprotula brood in all four demibranchs and have unhooked-type glochidia, others brood in only the outer demibranchs and have hooked-type glochidia. These are characters diagnostic of different freshwater mussel subfamilies. The genus Aculamprotula was created for the latter species, with A. fibrosa as the type species (Wu et al., 1999).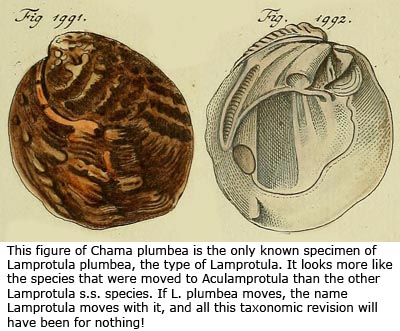 It was the molecular phylogeny published by Zhou et al. (2007) that determined which species belong in Aculamprotula and which should remain in Lamprotula. However, that study left us with more questions than answers, and former-Bama graduate student John Pfeiffer was tasked with resolving the issue. It turns out that while Pfeiffer & Graf (2013) were able to answer some of the unanswered questions (such as the subfamilial classification of Lamprotula s.s.: Gonideinae), the species circumscriptions of the two genera and even their correct names are not yet clear. So, enjoy the name Aculamprotula while it is still considered valid!
And, congratulations to John M. Pfeiffer III on his first publication!