Page last updated
2 December 2022
Mussel of the Month
The February 2015 Mussel of the Month is Acostaea rivoli. Acostaea is a monotypic genus, endemic to the Rio Madgalena, Colombia, South America.
[This species now goes by the name Mulleria rivoli. — DLG 2 December 2022.]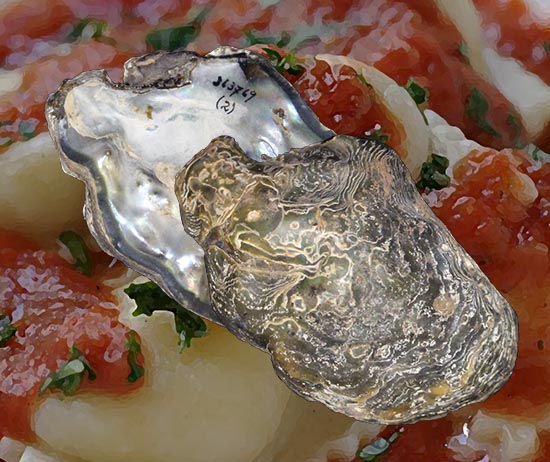 USNM 363769. Rio Sucio, near Dos Bocas, Santander, U.S. Colombia.
Acostaea is one of four monotypic genera currently classified in the family Etheriidae. The other three are Etheria, Pseudomulleria, and Bartlettia. A good common name for the etheriids might be "freshwater oysters." Although traditionally, the composition of the Etheriidae was unproblematic, modern cladistic analyses have recovered conflicting results.
Etheria (from Africa & Madagascar) is mostly unproblematic. It is the type genus of the Etheriidae. If there is an Etheriidae, Etheria will be classified in it. Bartlettia is kind of problem that we addressed in a previous MotM. The real existential problems for the Etheriidae are Acostaea (from South America) and Pseudomulleria (from India). The available molecular data rendered the family both paraphyletic and polyphyletic (Bogan & Hoeh, 2000; Hoeh et al., 2009). Acostaea was recovered as sister to the Mycetopodidae, and Etheria was sister to that clade (paraphyletic). Pseudomulleria, on the other hand, was placed in the Family Unionidae (polyphyletic). However, cladistic analysis using morphological characters found that the monomyarian Acostaea and Pseudomulleria were sister to each other, and dimyarian Etheria was sister to that pair (Graf & Cummings, 2006, 2010). In either case, there are interesting biogeographical consequences for these species widely disjunct on the former fragments of Gondwana.
We are as geeked up as anybody about the new phylogenetic data that have become available over the last couple decades — especially from molecular characters. However, this issue with the Etheriidae remains a problem that awaits more data to resolve.
Phylum Mollusca
Class Bivalvia
Subclass Palaeoheterodonta
Order Unionoida
Family ETHERIIDAE Deshayes, 1830

Genus Acostaea d'Orbigny, 1851
Species Acostaea rivoli Deshayes, 1827
To find out more about Acostaea and the other freshwater "oysters," check out:
Bogan, A. E. & W. R. Hoeh. 2000. On becoming cemented: evolutionary relationships among the genera in the freshwater bivalve family Etheriidae (Bivalvia: Unionoida) [in] E. M. Harper, J. D. Taylor & J. A. Crame, eds., The Evolutionary Biology of the Bivalvia. Geological Society, London, Special Publications, vol. 177. The Geological Society of London, London. pp. 159-168.
Graf, D. L. & K. S. Cummings. 2006. Palaeoheterodont diversity (Mollusca: Trigonioida + Unionoida): what we know and what we wish we knew about freshwater mussel evolution. Zoological Journal of the Linnean Society, 148: 343-394
Graf, D.L. & K.S. Cummings. 2010. Comments on the value of COI for family-level freshwater mussel systematics: a reply to Hoeh, Bogan, Heard & Chapman. Malacologia 52: 191-197.
Hoeh, W.R., A.E. Bogan, W.H. Heard & E.G. Chapman. 2009. Palaeoheterodont phylogeny, character evolution, diversity and phylogenetic classification: a reflection on methods of analysis. Malacologia 51: 307–317.