Page last updated
3 January 2022
Mussel of the Month
The January 2022 Mussel of the Month is Sinosolenaia recognita. Sinosolenaia is genus of four species from eastern Asia.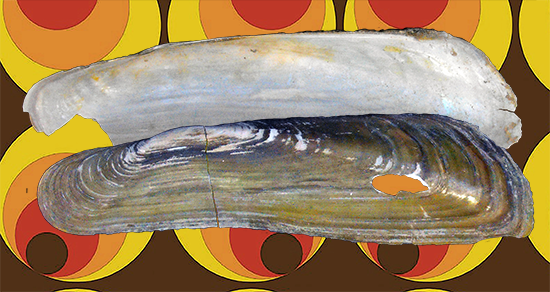 MNHN. "Ngan Noue, Chine" (type).
Last January, we set out in our post about Solenaia emarginata to summarize the updated classification of the freshwater mussel species assigned to Solenaia. And then the next day, a brand new, more comprehensive revision by Bolotov et al. (2021) came to our attention. A year later, we will finally update the story to accommodate the genus Sinosolenaia, including S. recognita — a largely un-recognita'd synonym since it was first described.
When we published our first checklist (Graf & Cummings, 2007), we applied a consensus classification from Haas (1969) and Liu et al. (1979) for China and Subba Roa (1989) in India: Solenaia emarginata (the type species of the genus), S. iridindea (+ S. oleivora),* S. triangularis, and S. soleniformis. To these species, Deein et al. (2004) added S. khwaenoiensis. Back then, Solenaia sensu lato was represented by 5 species, and there wasn't enough phylogenetic information to classify it more precisely than to the family Unionidae.
The diagram below summarizes the relationship between that 20th century classification and today. S. khwaenoiensis has been synonymized with S. emarginata, and that is the only valid species to remain in Solenaia sensu stricto (Pfeiffer et al., 2021). The other three species have been split among four genera in two different tribes: Balwantia, Parvasolenaia (Huang et al., 2019), Koreosolenaia (Lopes-Lima et al., 2020), and — most recently — Sinosolenaia (Bolotov et al., 2021).
Most of what Haas (1969) lumped as "Solenaia iridinea" is now recognized as four species of Sinosolenaia (and one species of Parvasolenaia). Five species in a single genus have become 10 species in 5 genera!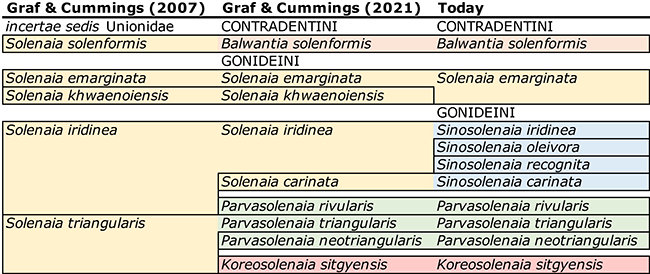 --
* In too many recent works to cite, the lumped species Solenaia iridinea was referred to by Solenaia oleivora. Haas (1969) considered the two nominal species to be synonyms, with Mycetopus iridineus Heude, 1874 having priority over Mycetopus oleivorus Heude, 1877. It is weird that everyone seemed to ignore S. iridinea for so long when there are multiple type specimens in Paris, Washington D.C., and Cambridge, MA!
Phylum Mollusca
Class Bivalvia
Subclass Palaeoheterodonta
Order Unionoida
Superfamily UNIONOIDEA Rafinesque, 1820
Family UNIONIDAE s.s.
Subfamily GONIDEINAE Ortmann, 1916
Tribe GONIDEINI s.s.
Genus Sinosolenaia Bolotov, Kondakov, Konopleva & Vikhrev, 2021

Species Sinosolenaia recognita (Heude, 1877)
To find out more about Sinosolenaia and the classification of East Asian freshwater mussels, check out:
Bolotov, I.N., A.V. Kondakov, E.S. Konopleva & I.V. Vikhrev. 2021. A new genus of ultra-elongate freshwater mussels from Vietnam and eastern China (Bivalvia: Unionidae). Ecologica Montenegrina 39: 1-6.
Deein, G., Y. Unakornsawat, P. Rattanadaeng, C. Sutcharit, B.-O. Kong-Im & S. Panha. 2004. A new species of Solenaia from Thailand (Bivalvia: Unionidae: Ambleminae). Natural History Journal of Chulalongkorn University 3(2): 53-58.
Graf, D.L. & K.S. Cummings. 2007. Review of the systematics and global diversity of freshwater mussel species (Bivalvia: Unionoida). Journal of Molluscan Studies 73: 291-314.
Graf, D.L. & K.S. Cummings. 2021. A 'big data' approach to global freshwater mussel diversity (Bivalvia: Unionoida), with an updated checklist of genera and species. Journal of Molluscan Studies 87(1): eyaa034 (36 pp.).
Haas, F. 1969. Superfamilia Unionacea. Das Tierreich, Leif. 88. Walter de Gruyter and Co., Berlin. 663 pp.
Huang, X.-C., J.-H. Su, J.-X. Ouyang, S. Ouyang, C.-H. Zhou & X.-P. Wu. 2019.Towards a global phylogeny of freshwater mussels (Bivalivia: Unionida): Species delimitation of Chinese taxa, mitochondrial phylogenomics, and diversification patterns. Molecular Phylogenetics and Evolution 130: 45-59.
Liu, Y.-Y., Y.-X. Wang & W.-Z. Zhang. 1979. Freshwater Mollusks. Economic Fauna of China. Science Press, Beijing, Peoples Republic of China. 124 pp.
Lopes-Lima, M., A. Hattori, T. Kondo, J.H. Lee, S.K. Kim et al. 2020. Freshwater mussels (Bivalvia: Unionidae) from the rising sun (Far East Asia): phylogeny, systematics, and distribution. Molecular Phylogenetics and Evolution 146: 1-27.
Pfeiffer, J.M., D.L. Graf, K.S. Cummings & L.M. Page. 2021. Taxonomic revision of a radiation of Southeast Asian freshwater mussels (Unionidae: Gonideinae: Contradentini+Rectidentini). Invertebrate Systematics 35: 394-470.
Subba Rao, N.V. 1989. Handbook Freshwater Molluscs of India. Zoological Survey of India, Calcutta. 289 pp.