Page last updated
1 November 2023
Mussel of the Month
The November 2023 Mussel of the Month is Potomida acarnanica. Potomida is a genus of three species with a circum-Mediterranean distribution.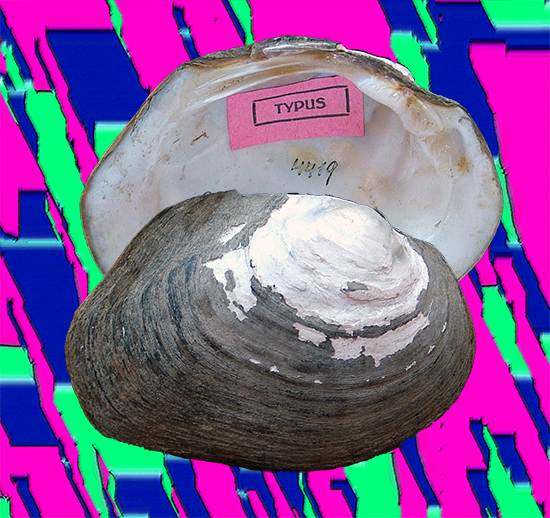 SMF 4419. See von Vrachori [= Lake Trichonida], Griechenland [Greece] (type).
The surge in molecular phylogenetic results of the last decade or so has resulted in important improvements to the systematics of the genus Potomida.
Going back to the late 20th century, it was generally agreed that Potomida was a widespread but monotypic genus. P. littoralis was regarded as ranging from western North Africa through Western Europe and around the Mediterranean to the Levant (Haas, 1969; Schutt, 1988; Falkner, 1994 Falkner et al., 2001). Moreover, the genus was classified by different authors in different taxa in the pre-cladistic era, with no real consensus. When we did our first checklist back in 2007 (Graf & Cummings, 2007), we followed the prevailing sentiment of single species of Potomida and — as we did with so many genera back then — punted on the family-group level classification: incertae sedis Unionidae of the Western Palearctic. This traditional concept of Potomida littoralis was immortalized as the Mussel of the Month back in August 2008.
Nowadays, we consider Potomida to be represented by three species: P. littoralis in Western Europe and North Africa (Western Mediterranean), P. semirugata from Turkey to the Levant (Eastern Mediterranean), and P. acarnanica (our current Mussel of the Month) between them in Greece (Froufe et al., 2016; Graf & Cummings, 2021). Each of the three Recent species of Potomida is mapped using specimen records on this web site.
We also have a better handle on the classification of the genus. Potomida is consistently recovered with Lamprotula and Pronodularia as part of tribe Lamprotulini in the subfamily Gonideinae (Pfeiffer & Graf 2013; Lopes-Lima et al., 2017). The relevant phylogenetic studies and their results can be seen on the Lamprotulini Cladomics page on this web site, too.
Phylum Mollusca
Class Bivalvia
Subclass Palaeoheterodonta
Order Unionoida
Superfamily UNIONOIDEA Rafinesque, 1820
Family UNIONIDAE s.s.
Subfamily GONIDEINAE Ortmann, 1916
Tribe LAMPROTULINI Modell, 1942

Genus Potomida Swainson, 1840
Species Potomida acarnanica (Kobelt, 1879)
To find out more about the taxonomy and classification of Potomida, check out:
Falkner, G. 1994. Systematik vorderorientalischer Najaden als Vorstudie zur Bearbeitung archäologischer Funde. [in] M. Kokabi & J. Wahl, eds. Beiträge zur Archäozoologie und Prähistorischen Anthropologie 53: 135-162.
Falkner, G., R.A. Bank & T.v. Proschwitz. 2001. CLECOM-PROJECT: Check-list of the non-marine Molluscan species-group taxa of the states of northern, Atlantic and central Europe (CLECOM I). Heldia 4(1/2): 1-76.
Graf, D.L. & K.S. Cummings. 2007. Review of the systematics and global diversity of freshwater mussel species (Bivalvia: Unionoida). Journal of Molluscan Studies 73: 291-314.
Graf, D.L. & K.S. Cummings. 2021. A 'big data' approach to global freshwater mussel diversity (Bivalvia: Unionoida), with an updated checklist of genera and species. Journal of Molluscan Studies 87(1). eyaa034 (36 pp.).
Haas, F. 1969. Superfamilia Unionacea. Das Tierreich 88. Walter de Gruyter and Co., Berlin. 663 pp.
Lopes-Lima, M., E. Froufe, V.T. Do, M. Ghamizi, K.E. Mock et al. 2017. Phylogeny of the most species-rich freshwater bivalve family (Bivalvia: Unionida: Unionidae): Defining modern subfamilies and tribes. Molecular Phylogenetics and Evolution 106: 174-191.
Pfeiffer, J.M. & D.L. Graf. 2013. Re-analysis confirms the polyphyly of Lamprotula Simpson, 1900 (Bivalvia: Unionidae). Journal of Molluscan Studies 79: 249-256.
Schütt, H. 1988. Ergänzungen zur kenntnis der molluskenfauna oberpliozäner süßwasserkonglomerate Syriens. Archiv für Molluskenkunde 118(4/6): 129-143.