Page last updated
6 August 2018
Mussel of the Month
The August 2018 Mussel of the Month is Pseudodontoideus connasaugaensis.* Pseudodontoideus is a genus of two species from the Gulf Coastal Plain of North America.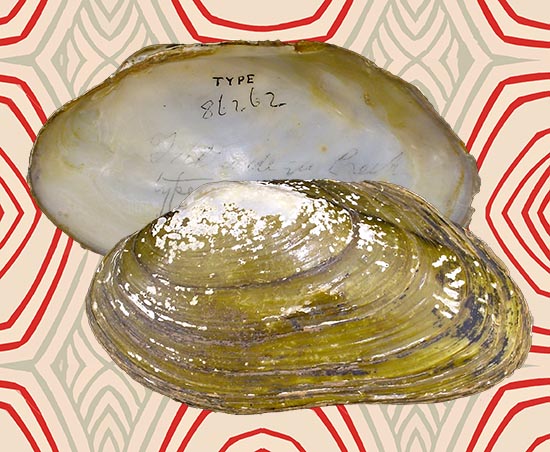 USNM 86262. Talladega Creek, Alabama (type of Margaritana alabamensis Lea, 1861).
This year we have been kept busy with the splitting of freshwater mussel genera. Pseudodon has been broken into three genera, Villosa is now spread among six genera, and Sinohyriopsis has been split from Hyriopsis. As we explained when the new genus Leaunio was Mussel of the Month, we are seeing generic revisions unlike anything in our more than 15-year history.** There are even more changes coming down the pipe that we will have ready on this web site for next month (along with a necessary update to the MUSSELpdb).
Thanks to Smith et al. (2018), we have another instance of traditional genus disruption. This time it is Strophitus that is split. S. undulatus stays put, but P. connasaugaensis and P. subvexus belong in a separate lineage called Pseudodontoideus. But as Strophitus lost two species, it gained three. S. radiatus (formerly of Anodontoides) was divided into multiple species along the Gulf Coastal drainages of North America. These genera have been fairly stable in their taxonomy until recently (Frierson, 1927; Haas, 1969; Burch, 1975; Graf & Cummings, 2007; Williams et al., 2017), but again it hasbeen shown that as we tug at the loose strings, our tidy classification of freshwater mussel tends to unravel.
It is a good thing that we already have a good database structure to keep track of all these thrilling changes in freshwater mussel taxonomy!
--
* Pseudodontoideus connasaugaensis (32 characters) is the longest freshwater mussel name — even longer than Prisodontopsis aviculaeformis (29).
** The MUSSEL Project Web Site was launched October 2002, we have been serving taxonomic data on freshwater mussels since December of the same year, and in August 2003 we designated our first Mussel of the Month.
Phylum Mollusca
Class Bivalvia
Subclass Palaeoheterodonta
Order Unionoida
Superfamily UNIONOIDEA Rafinesque, 1820
Family UNIONIDAE s.s
Subfamily UNIONINAE s.s.
Tribe ANODONTINI Rafinesque, 1820
Genus Pseudodontoideus Frierson, 1927

Species Pseudodontoideus connasaugaensis (Lea, 1858)
To find out more about the taxonomy of Pseudodontoideus and related genera, check out:
Burch, J.B. 1975. Freshwater Unionacean clams (Mollusca: Pelecypoda) of North America. [Revised Edition]. Malacological Publications. Hamburg, Michigan. 204 pp.
Frierson, L.S. 1927. A Classification and Annotated Check List of the North American Naiades. Baylor University Press, Waco, Texas. 111 pp.
Graf, D.L. & K.S. Cummings. 2007. Review of the systematics and global diversity of freshwater mussel species (Bivalvia: Unionoida). Journal of Molluscan Studies 73: 291-314.
Haas, F. 1969. Superfamilia Unionacea. Das Tierreich, Leif. 88. Walter de Gruyter and Co., Berlin. 663 pp.
Smith, C.H., N.A. Johnson, J.M. Pfeiffer & M.M. Gangloff. 2018. Molecular and morphological data reveal non-monophyly and speciation in imperiled freshwater mussel (Anodontoides and Strophitus). Molecular Phylogenetics and Evolution 119: 50-62.
Williams, J.D., A.E. Bogan, R.S. Butler, K.S. Cummings, J.T. Garner et al. 2017. A revised checklist of the freshwater mussels (Mollusca: Bivalvia: Unionida) of the United States and Canada. Freshwater Mollusk Biology and Conservation 20(2): 33-58.