Unionoida | Unionoidea | Unionidae | Parreysiinae | Lamellidentini | Lamellidens marginalis
nominal species Unio marginalis Lamarck, 1819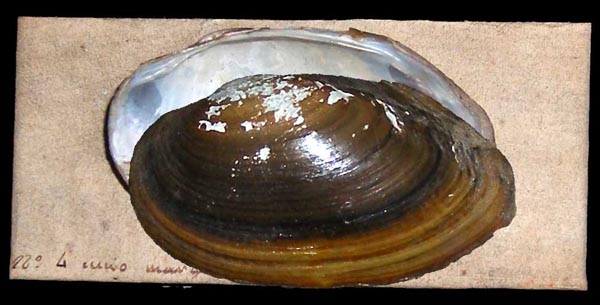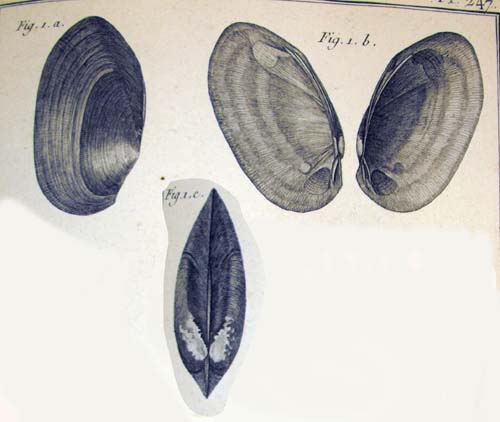 Bruguière, 1797, Encycl. Méth. 2: pl. 247, figs. 1a-c [as Unio sp.].
Lamarck, 1819, Hist. Natur. Anim. sans Vert. 6: 79, sp. 41.
(renamed Unio marginalis var. typica Hanley & Theobald, 1872)
Type(s): POSSIBLE SYNTYPE MNHN_MPL_0031, Habite au Bengale, dans les rizières [sic]... La variété [b] vient de l'ile de Ceylon....Mon cabinet. [Lives in Bengal, in rice [sic]... The [b] variety comes from the island of Ceylon...My cabinet. ].
Taxonomic Opinions
= Lamellidens (marginalis-group) marginalis (Lamarck, 1819) — Bolotov et al., 2022
= Lamellidens marginalis (Lamarck, 1819) — Bolotov et al., 2022
= Lamellidens marginalis (Lamarck, 1819) — Pavan-Kumar et al., 2022
= Lamellidens marginalis (Lamarck, 1819) — Graf & Cummings, 2021
= Lamellidens marginalis (Lamarck, 1819) — Bieler, 2021
= Lamellidens marginalis (Lamarck, 1819) — Konopleva et al., 2020
= Lamellidens marginalis (Lamarck, 1819) — Bolotov et al., 2020
= Lamellidens aff. marginalis sp. 1 (Lamarck, 1819) — Huang et al., 2019
= Lamellidens marginalis — Jeratthitikul et al., 2019
= Lamellidens aff. marginalis sp. 2 (Lamarck, 1819) — Huang et al., 2019
= Lamellidens aff. marginalis sp. 3 (Lamarck, 1819) — Huang et al., 2019
= Lamellidens aff. marginalis sp. 4 (Lamarck, 1819) — Huang et al., 2019
= Lamellidens aff. marginalis sp. 5 (Lamarck, 1819) — Huang et al., 2019
= Lamellidens marginalis (Lamarck, 1819) — Zieritz et al., 2018
= Lamellidens aff. marginalis sp. 3 (Lamarck, 1819) — Bolotov et al., 2018
= Lamellidens marginalis (Lamarck, 1819) — Pfeiffer et al., 2018
= Lamellidens aff. marginalis sp. 1 (Lamarck, 1819) — Bolotov et al., 2017
= Lamellidens aff. marginalis sp. 1 (Lamarck, 1819) — Bolotov et al., 2017
= Lamellidens marginalis (Lamarck, 1819) — Konopleva et al., 2017
= Lamellidens aff. marginalis sp. 2 (Lamarck, 1819) — Bolotov et al., 2017
= Lamellidens aff. marginalis sp. 3 (Lamarck, 1819) — Bolotov et al., 2017
= Lamellidens aff. marginalis sp. 4 (Lamarck, 1819) — Bolotov et al., 2017
= Lamellidens aff. marginalis sp. 5 (Lamarck, 1819) — Bolotov et al., 2017
= Lamellidens aff. marginalis sp. 2 (Lamarck, 1819) — Bolotov et al., 2017
= Lamellidens aff. marginalis sp. 3 (Lamarck, 1819) — Bolotov et al., 2017
= Lamellidens aff. marginalis sp. 4 (Lamarck, 1819) — Bolotov et al., 2017
= Lamellidens aff. marginalis sp. 5 (Lamarck, 1819) — Bolotov et al., 2017
= Lamellidens marginalis (Lamarck, 1819) — Konopleva et al., 2017
= Lamellidens marginalis — Upadhye et al., 2011
= Lamellidens marginalis Lamarck, 1819 — Bogan, 2010
= Lamellidens marginalis (Lamarck, 1819) — IUCN, 2010
= Lamellidens marginalis (Lamarck) — Burdi et al., 2009
= Lamellidens marginalis (Lamarck, 1819) — Graf & Cummings, 2007
= Lamellidens marginalis (Lamarck, 1819) — Dey, 2007
= Lamellidens marginalis (Lamarck, 1819) — Nesemann et al., 2007
= Lamellidens marginalis (Lamarck, 1819) — Graf & Cummings, 2006
= Lamellidens marginalis (Lamarck, 1819) — Nesemann et al., 2003
= Lamellidens marginalis (Lamarck, 1819) — Subba Rao, 1989
= Lamellidens marginalis (Lamarck, 1819) — Janaki Ram & Radhakrishna, 1984
+ Lamellidens testudinarius (Spengler, 1793) — Haas, 1969
= Lamellidens marginalis (Lamarck, 1819) — Haas, 1969
= Lamellidens marginalis (Lamarck, 1819) — Likharev & Starobogatov, 1967
= Lamellidens marginalis (Lam.) — van Benthem Jutting, 1953
= Lamellidens marginalis (Lamarck, 1819) — Modell, 1942
= Lamellidens marginalis (Lamarck) — Thiele, 1934
= Lamellidens marginalis (Lamarck, 1819) — Prashad, 1922
= Lamellidens marginalis (Lamarck) — Annandale & Prashad, 1921
= Lamellidens marginalis — Prashad, 1919
= Lamellidens (s.s.) marginalis (Lamarck, 1819) — Preston, 1915
= Lamellidens (s.s.) marginalis (Lamarck, 1819) — Simpson, 1914
= Lamellidens marginalis (Lamarck, 1819) — Ortmann, 1912
= Lamellidens (s.s.) marginalis (Lamarck) — Preston, 1912
= Lamellidens (s.s.) marginalis (Lamarck, 1819) — Simpson, 1900
= Unio (s.s.) marginalis Lamarck, 1819 — Paetel, 1890
= Unio marginalis Lamarck — Tapparone Canefri, 1889
= Unio marginalis Lamarck, 1819 — Nevill, 1877
= Unio marginalis Lamarck, 1819 — Hanley & Theobald, 1872
= Margaron (Unio) marginalis (Lam.) — Lea, 1870
+ Unio testudinarius Spgl. — Mörch, 1868
= Unio marginalis Lamarck, 1819 — Sowerby, 1867
= Unio marginalis Lamarck — Küster, 1861
= Unio marginalis Lea [sic] — Adams & Adams, 1857
= Margaron (Unio) marginalis (Lam.) — Lea, 1852
= Unio marginalis Lam. — Hutton, 1849
= Unio marginalis Lam. — Hanley, 1843
= Mysca (s.s.) marginalis (Lamarck, 1819) — Swainson, 1840
= Margarita (Unio) marginalis Lam. — Lea, 1838
= Margarita (Unio) marginalis (Lamarck, 1819) — Lea, 1836
= Unio marginalis — Jay, 1835
= Unio marginalis Lamarck — Lea, 1834
= Unio marginalis Lamk. — Deshayes, 1832
= Unio marginalis Lamarck — Lea, 1829
= Unio marginalis Lamarck, 1819 — Bory de St. Vincent, 1827
= Unio marginalis — Lamarck, 1819