Page last updated
1 July 2013
Mussel of the Month
The July 2013 Mussel of the Month is Micronaias fallaciosa. Micronaias is a genus of three species, endemic to Nicaragua in Central America.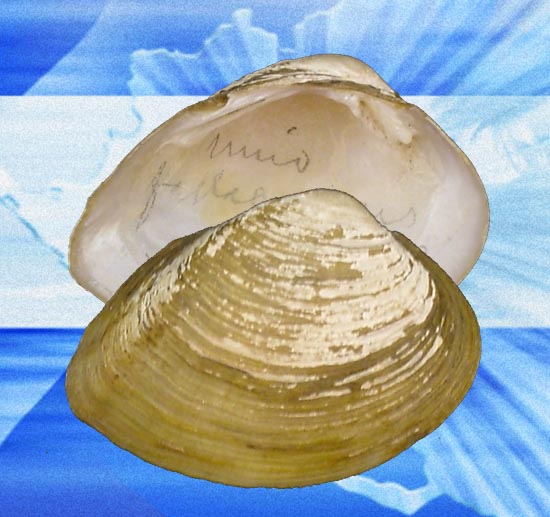 USNM 73062: Lake Nicaragua, Nicaragua. (Thomas Bridges!)
Micronaias is just one of 21 unionid genera known from Central America. As we have pointed out before when discussing Arotonaias, Barynaias, Friersonia, Nephronaias and Psoronaias, the Neotropical Unionidae are poorly known. If you are looking for a frontier of freshwater mussel research, where jack-diddly-bupkis is known, you need look no further than Micronaias and its kin.
For example, do a Google Scholar search for Micronaias.You will find our global checklist (Graf & Cummings, 2007), and the next most recent reference will be a type catalog from the ANSP in the early 1970s (Johnson & Baker, 1973). If you want to learn about Micronaias, you need to go to the last "revision" of Mesoamerican unionids: Frierson (1927; largely duplicated in Haas, 1969). And then, you will learn that this mussel has a name. We we learn something more, we will get back to you.
Phylum Mollusca
Class Bivalvia
Subclass Palaeoheterodonta
Order Unionoida
Family UNIONIDAE Rafinesque, 1820
Subfamily AMBLEMINAE Rafinesque, 1820
Tribe PLEUROBEMINI Hannibal, 1912

Genus Micronaias Simpson, 1900
Species Micronaias fallaciosa (Simpson, 1914)
To find out more about Micronaias and Central American freshwater mussels, check out:
Graf, D.L. & K.S. Cummings. 2007. Review of the systematics and global diversity of freshwater mussel species (Bivalvia: Unionoida). Journal of Molluscan Studies 73: 291-314.
Johnson, R.I. & H.B. Baker. 1973. The types of Unionacea (Mollusca: Bivalvia) in the Academy of Natural Sciences of Philadelphia. Proceedings of the Academy of Natural Sciences of Philadelphia 125(9): 145-186.
Frierson, L.S.. 1927. A Classified and Annotated Check List of the North American Naiades: 111 pp.
Haas, F. 1969. Superfamilia Unionacea. Das Tierreich 88: 1-663.