Page last updated
31 August 2022
Mussel of the Month
The September 2022 Mussel of the Month is Parreysia corrugata. Parreysia is a genus of six species from India and Myanmar.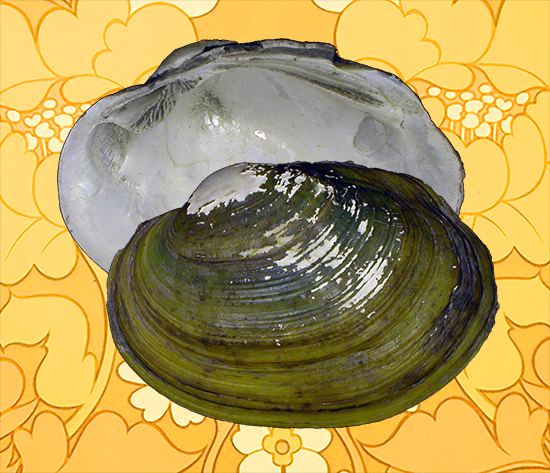 BMNH 1965215. Assam [India]. (type of Unio favidens Benson, 1862)
This is the era of freshwater mussel revision. Old genera like Trapezoideus, Solenaia, and Pseudodon and being split and reclassified to give us new genera like Trapezidens, Sinosolenaia, and Sundadontina. This month our subject is Parreysia. (Each of those genera is hot-linked to a discussion about their recent taxonomic machinations.)
We already thought we covered Parreysia corrugata as Mussel of the Month in September of 2005. Back then, Parreysia was thought to be composed of almost 40 species in two subgenera, P. (Parreysia) and P. (Radiatula) (Graf & Cummings, 2007). Sixteen years later, when we updated the checklist (Graf & Cummings, 2021 and references cited therein), Parreysia sensu lato has been split into 4 genera (Parreysia sensu stricto, Leoparreysia, Radiatula, and Indonaia), and two species have been shifted to Scabies. The most recent work by Bolotov et al. (2022a-c) provides a good summary of the current state of those taxa. As of this typing, only 6 Recent species are currently classified under Parreysia. We have gone from a "garbage-pail," catch-all genus to a tidy little package that is the sole genus in its own tribe (Parreysiini).
Furthermore, the specimen we thought was P. corrugata (the type of Unio tennentii Hanley & Theobald, 1876) is now classified by Bolotov et al. (2022a) as Parreysia plagiostoma. To get P. corrugata back on the map, this month we are depicting a type specimen of Unio favidens Benson, 1862. Parreysia favidens itself had been recognized as a valid species for more than 150 years, but Bolotov et al. (2022a) sunk that name (with its many subspecies and synonyms) and a half dozen other old species circumscriptions under the Parreysia corrugata we have today.
We look forward to catching up with you in another decade or so about the classification of Parryesia!
Phylum Mollusca
Class Bivalvia
Subclass Palaeoheterodonta
Order Unionoida
Superfamily UNIONOIDEA Rafinesque, 1820
Family UNIONIDAE s.s.
Subfamily PARREYSIINAE Henderson, 1935
Tribe PARREYSIINI s.s.
Genus Parreysia Conrad, 1853
Species Parreysia corrugata (Müller, 1774)
To find out more about Parreysia and the classification of the Parreysiinae, check out:
Graf, D.L. & K.S. Cummings. 2007. Review of the systematics and global diversity of freshwater mussel species (Bivalvia: Unionoida). Journal of Molluscan Studies 73: 291-314.
Graf, D.L. & K.S. Cummings. 2021. A 'big data' approach to global freshwater mussel diversity (Bivalvia: Unionoida), with an updated checklist of genera and species. Journal of Molluscan Studies 87(1): eyaa034 (36 pp.).
Bolotov, I.N., R. Pasupuleti, N.V. Subba Rao, S.K. Unnikrishnan, E.S. Konopleva et al. 2022a. Oriental freshwater mussels arose in East Gondwana and arrived to Asia on the Indian Plate and Burma Terrane. Scientific Reports 12. 1518 (26 pp.).
Bolotov, I.N., E.S. Konopleva, I.V. Vikhrev, T. Win, Z. Lunn et al. 2022b. Follow the footsteps of Leonardo Fea: An example of an integrative revision of freshwater mussel taxa described from the former British Burma (Myanmar). Hindawi 6600359. 33 pp.
Bolotov, I.N., E.S. Konopleva, N. Chan, Z. Lunn, T. Win et al. 2022c. A riverine biodiversity hotspot in northern Myanmar supports three new and narrowly endemic freshwater mussel species. Aquatic Conservation: Marine & Freshwater Ecosystems early online: [1-19].