Page last updated
Wed 26 Feb 2020
The Freshwater Mussels (Unionoida) of the World (and other less consequential bivalves)
FM(U)otW(aolcb) is the web version of the MUSSEL Project Database. Follow the links to browse the data or use the custom Google search field. Either way, you win!
This page lists the nominal species (available and otherwise) currently circumscribed under the valid name.
Search the database pages:
---
Bivalvia | Unionoida | Unionoidea | Unionidae | Ambleminae | Pleurobemini | Elliptio
species Elliptio crassidens (Lamarck, 1819): synonymy
5 specimens available.
Unio crassidens Lamarck, 1819

Lamarck, 1819, Hist. Natur. Anim. sans Vert. 6: 71, sp. 3, var. b. [in part]
Type(s): LECTOTYPE MNHN_MPL_0030, "du lac Erie" .

Unio crassidens — Lamarck (1819), Lea (1834), Jay (1835), Hanley (1843), Call (1895), Ortmann (1909), Ortmann (1910)
Unio niger — Ferussac (1835), Conrad (1836), Küster (1848)
Margarita (Unio) crassidens — Lea (1836)
Mysca crassidens — Schlüter (1838)
Margaron (Unio) crassidens — Lea (1852), Lea (1870)
Unio (Elliptio) niger — Mörch (1853)
Unio (Lampsilis) crassidens — Adams & Adams (1857)
Unio (Limnium sec. Elliptio) crassidens — Fischer (1886)
Unio (sec. Elliptio) crassidens — Simpson (1900), Simpson (1914)
Unio (s.s.) crassidens — Call (1900)
Elliptio crassidens — Ortmann (1912), Ortmann & Walker (1922), Ortmann (1924), Ortmann (1925), F.C. Baker (1928), R.I. Johnson (1969), Gordon et al. (1979), Davis & Fuller (1981), Davis (1984), Turgeon et al. (1988), Cummings & Mayer (1992), Williams et al. (1993), Vidrine (1993), Strayer & Jirka (1997), Parmalee & Bogan (1998), Turgeon et al. (1998), Lydeard et al. (1999), Brim Box & Williams (2000), Graf (2000), Kandl et al. (2001), Cicerello & Schuster (2003), Sietman (2003), Jones et al. (2005), Campbell et al. (2005), Graf & Cummings (2007), Burdick & White (2007), Williams et al. (2008), Campbell et al. (2008), Watters et al. (2009), Cummings & Graf (2010), Bogan (2010), Boyer et al. (2011), IUCN (2011), Williams et al. (2011), Haag (2012), McMurray et al. (2012), Burlakova et al. (2012), ITIS (2012), Campbell & Lydeard (2012), Campbell & Lydeard (2012), Williams et al. (2014), Jones (2015), Pfeiffer et al. (2016), Williams et al. (2017), Perkins et al. (2017), Johnson et al. (2018), Inoue et al. (2018), Burlakova et al. (2019), Lopes-Lima et al. (2019)
Elliptio (s.s.) niger — Frierson (1927)
Elliptio (s.s.) crassidens — Thiele (1934), Haas (1969), Burch (1975)
Elliptio niger — Modell (1942)
Elliptio (s.s.) crassidens crassidens — Haas (1969), R.I. Johnson (1970)
Elliptio crassidens crassidens — R.I. Johnson (1980), Oesch (1984)
Unio danielsii B.H. Wright, 1899

B.H. Wright, 1899, Nautilus 13(3): 31.
Type(s): HOLOTYPE USNM_168967, Spring Creek, Decatur Co., Georgia.

Unio danielsii — B.H. Wright (1899)
Unio (sec. Elliptio) danielsii — Simpson (1900), Simpson (1914)
Elliptio (s.s.) niger-danielsi — Frierson (1927)
Elliptio crassidens incrassatus — Clench & Turner (1956)
Elliptio (s.s.) crassidens danielsii — Haas (1969)
Elliptio (s.s.) crassidens crassidens — R.I. Johnson (1970)
Elliptio (s.s.) crassidens — Burch (1975)
Elliptio crassidens — Parmalee & Bogan (1998), Brim Box & Williams (2000), Watters et al. (2009), Williams et al. (2011), Williams et al. (2014)
Unio (Elliptio) nigra Rafinesque, 1820

Rafinesque, 1818, Amer. Mon. Mag. 3: 355 [as 'Potamilus niger']. [nomen nudum]
Rafinesque, 1820, Ann. Gén. Sci. Phys. 5 (13): 291, pl. 80, figs. 1-4.
Rafinesque, 1864, [in] Binney & Tryon, reprint: 22, 37.
Type(s): LECTOTYPE ANSP_20243, River Ohio.

Unio (Elliptio) nigra — Rafinesque (1820)
Potamilus niger — Rafinesque (1818)
Unio cuneatus — Ravenel (1834)
Unio niger — Ferussac (1835), Conrad (1836), Küster (1848), Agassiz (1852), Conrad (1853), Sowerby (1868)
Margarita (Unio) crassidens — Lea (1836)
Margaron (Unio) crassidens — Lea (1852), Lea (1870)
Unio (Elliptio) niger — Mörch (1853)
Unio (sec. Elliptio) crassidens — Simpson (1900), Simpson (1914)
Elliptio nigra — Utterback (1915)
Elliptio crassidens — Ortmann & Walker (1922), F.C. Baker (1928), Vidrine (1993), Parmalee & Bogan (1998), Brim Box & Williams (2000), Graf & Cummings (2007), Williams et al. (2008), Watters et al. (2009), Campbell & Lydeard (2012), Williams et al. (2014)
Elliptio (s.s.) niger — Frierson (1927), Haas (1930)
Elliptio niger — Modell (1942)
Elliptio (s.s.) crassidens crassidens — Haas (1969), R.I. Johnson (1970)
Elliptio (s.s.) crassidens — Burch (1975)
Elliptio crassidens crassidens — R.I. Johnson (1980), Oesch (1984)
Unio (Elliptio) nigra var. fusca Rafinesque, 1820
Rafinesque, 1820, Ann. Gén. Sci. Phys. 5 (13): 293.
Rafinesque, 1864, [in] Binney & Tryon, reprint: 39.
(intro'd as intra-sp. of Unio (Elliptio) nigra Rafinesque, 1820)

Unio (Elliptio) nigra var. fusca — Rafinesque (1820)
Elliptio crassidens — Parmalee & Bogan (1998), Williams et al. (2008), Watters et al. (2009)
Unio (Elliptio) nigra var. maculata Rafinesque, 1820
Rafinesque, 1820, Ann. Gén. Sci. Phys. 5 (13): 293.
Rafinesque, 1864, [in] Binney & Tryon, reprint: 39.
(intro'd as intra-sp. of Unio (Elliptio) nigra Rafinesque, 1820)

Unio (Elliptio) nigra var. maculata — Rafinesque (1820)
Elliptio (s.s.) niger — Frierson (1927)
Fusconaia subrotunda — R.I. Johnson (1980)
Elliptio crassidens — Parmalee & Bogan (1998), Williams et al. (2008), Watters et al. (2009)
Unio cuneatus Barnes, 1823
Barnes, 1823, Amer. J. Sci. 6 (1-2): 263.

Unio cuneatus — Barnes (1823), Lea (1829), Ravenel (1834)
Unio crassidens — Lea (1834), Jay (1835), Hanley (1843), Call (1895)
Unio niger — Ferussac (1835), Conrad (1836), Küster (1848), Agassiz (1852)
Margarita (Unio) crassidens — Lea (1836)
Margarita (Unio) phaseolus — Lea (1836)
Margaron (Unio) crassidens — Lea (1852), Lea (1870)
Margaron (Unio) phaseolus — Lea (1852), Lea (1870)
Unio fasciolaris — Conrad (1853)
Unio (Elliptio) niger — Mörch (1853)
Unio (sec. Elliptio) crassidens — Simpson (1900), Simpson (1914)
Elliptio nigra — Utterback (1915)
Elliptio crassidens — Ortmann & Walker (1922), F.C. Baker (1928), Parmalee & Bogan (1998), Brim Box & Williams (2000), Williams et al. (2008), Watters et al. (2009)
Elliptio (s.s.) niger — Frierson (1927), Haas (1930)
Elliptio (s.s.) crassidens crassidens — Haas (1969), R.I. Johnson (1970)
Elliptio (s.s.) crassidens — Burch (1975)
Elliptio crassidens crassidens — Oesch (1984)
Obliquaria (Aximedia) venus Rafinesque, 1831
Rafinesque, 1831, Continuation: 3.
Rafinesque, 1864, [in] Binney & Tryon, reprint: 75.

Obliquaria (Aximedia) venus — Rafinesque (1831)
Unio venus — Ferussac (1835)
Quadrula (Fusconia) subrotunda — Frierson (1927)
Fusconaia subrotunda — Haas (1969)
Elliptio crassidens — Parmalee & Bogan (1998), Williams et al. (2008), Watters et al. (2009)
Unio niger Conrad, 1836
'Rafinesque' Conrad, 1836, Monogr. Fam. Unionidae 1(6): 49, pl. 46.
'Rafinesque' Conrad, 1853, Proc. Acad. Nat. Sci. 6: 253.
(reference to Unio (Elliptio) nigra Rafinesque, 1820)

Unio niger — Conrad (1836), Küster (1848)
Unio crassidens — Hanley (1843), Call (1895)
Margaron (Unio) crassidens — Lea (1852), Lea (1870)
Unio (sec. Elliptio) crassidens — Simpson (1900)
Unio incrassatus Lea, 1840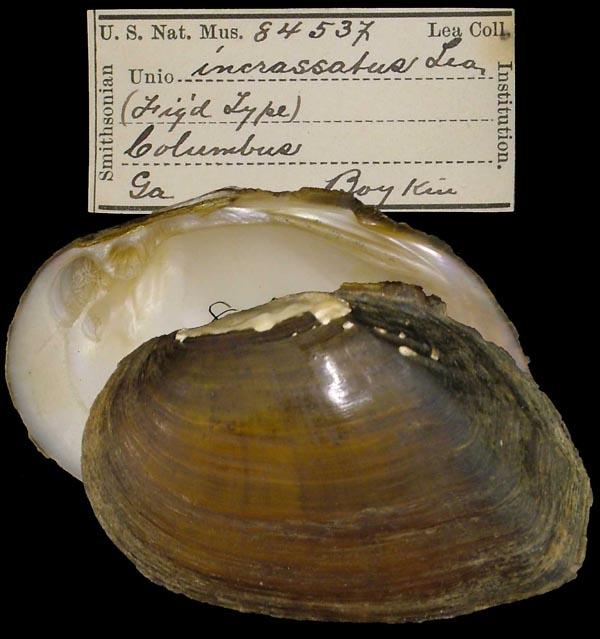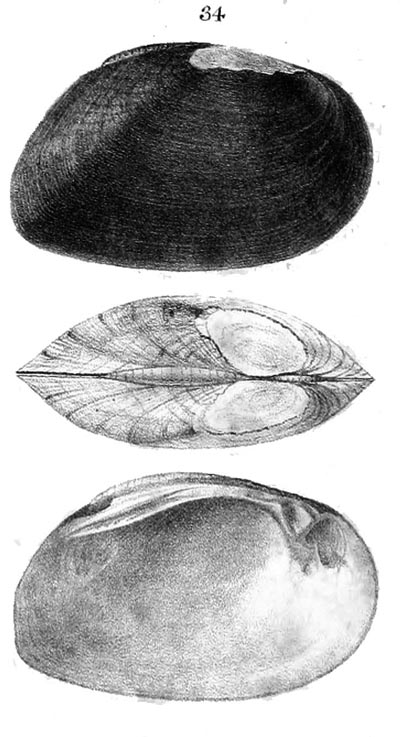 Lea, 1840, Proc. Amer. Phil. Soc. 1: 286.
Lea, 1842, Trans. Amer. Phil. Soc. 8 [O. 3]: 217 [55], pl. 16, fig. 34.
Type(s): HOLOTYPE USNM_84537, Columbus, Ga.

Unio incrassatus — Lea (1840), Küster (1861), Reeve (1865)
Margaron (Unio) incrassatus — Lea (1852), Lea (1870)
Unio niger — Conrad (1853)
Unio (Lampsilis) incrassatus — Adams & Adams (1857)
Unio crassidens — Call (1895)
Unio (sec. Elliptio) incrassatus — Simpson (1900)
Unio (sec. Elliptio) crassidens var. incrassatus — Simpson (1914)
Elliptio (s.s.) niger-incrassatus — Frierson (1927)
Elliptio crassidens incrassatus — Clench & Turner (1956)
Elliptio (s.s.) crassidens crassidens — Haas (1969), R.I. Johnson (1970)
Elliptio (s.s.) crassidens — Burch (1975)
Elliptio crassidens — Parmalee & Bogan (1998), Brim Box & Williams (2000), Williams et al. (2008), IUCN (2011), Williams et al. (2011), Williams et al. (2014)
Unio crassus Sowerby, 1868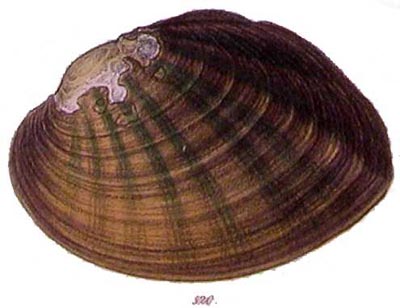 'Say' Sowerby, 1868, Conch. Icon. 16: pl. 95, sp. 520.
(misidentified reference to Unio crassus Say, 1817)

Unio crassus — Sowerby (1868)
Lampsilis (sec. Eurynia) ligamentinus var. gibbus — Simpson (1900)
Lampsilis (Eurynia) ligamentina var. gibba — Simpson (1914)
Lampsilis (Ortmanniana) carinata-calendis — Frierson (1927)
Elliptio (s.s.) crassidens crassidens — Haas (1969)
Elliptio crassidens — Parmalee & Bogan (1998), Watters et al. (2009)
Unio discus Sowerby, 1868
'Lea' Sowerby, 1868, Conch. Icon. 16: pl. 62, sp. 310; errata.
(misidentified reference to Unio discus Lea, 1838)

Unio discus — Sowerby (1868)
Unio (sec. Elliptio) crassidens — Simpson (1900), Simpson (1914)
Unio (Lampsilis) discus — Martens (1900)
Elliptio (s.s.) niger — Frierson (1927)
Elliptio (s.s.) crassidens crassidens — Haas (1969), R.I. Johnson (1970)
Elliptio (s.s.) crassidens — Burch (1975)
Elliptio crassidens — Parmalee & Bogan (1998), Watters et al. (2009)
Elliptio pachyodon Pilsbry, 1953
Pilsbry, 1953, ANSP Monogr. 8: 447, pl. 65, fig. 8.

Elliptio pachyodon — Pilsbry (1953)
Elliptio (s.s.) crassidens crassidens — R.I. Johnson (1970)
Elliptio (s.s.) crassidens — Burch (1975)
Elliptio crassidens — Watters et al. (2009)
Page updated: 09:02:06 Wed 26 Feb 2020